Puma aims for 4 billion Euros sales revenue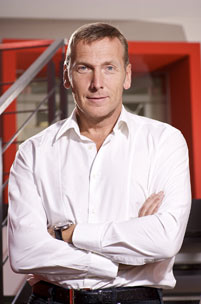 Jochen Zeitz
The
Puma
brings out its claws. While the difficult market conditions have been slowing projects down until now, the feline brand announces its ambitions. The supplier will present in late October its plan: "Phase IV Revisited" for its activity 2011-2015. The initial phase 4 already set off to a good start in 2006, however the economic crisis came and interfered. According to
Jochen Zeitz
, Puma's boss since 1993, its 30th year, the goal has been clear: the cross bar for 2015 is to reach 4 billion Euros of turnover, compared to its 2.5 billion in 2009. Initiated in 2006, Phase 4 aimed to regain control of distribution in many countries and to launch new product lines including beachwear, car and golf gear. These categories of expansion have been pursued, but hindered by the state of the economy.
In the first half of 2010, when the World Cup started on June 11, the group saw its turnover stable at 1.29 billion Euros. At constant exchange rates, the brand's sales even declined by 3.7%. Without taking into account the variation in exchange rates, sales of shoes and clothing fell by 7% and 2% respectively. In Middle-Eastern Europe and Africa, the decline was more than 8% and sales there amounted to 619 million Euros. From January to June, operating profit increased slightly to exceed 183 million Euros. For the full year, management expects sales growth to anumerate single digits.
Copyright © 2023 FashionNetwork.com All rights reserved.