Puma celebrates the Olympics with its Puma Yard in London
Puma is celebrating the Olympics by creating a little Jamaica in the heart of London. From July 27 to August 12, for the duration of the Games, the sportswear manufacturer will play host at its Puma Yard in the British capital's Boiler House, a former brewery on Brick Lane.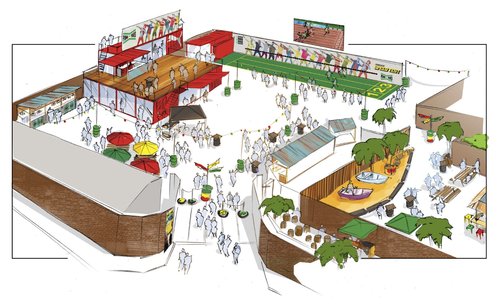 Le Puma Yard
A space of 500,000-square feet done up in the colors of Jamaica — whose team is sponsored by Puma — has been created in the spirit of Puma Social Clubs located in Abu Dhabi, New York, Tokyo or Paris.
"Through Puma social parties with live music and giant TV screens broadcasting the sports events, Puma Yard caters to anyone who wants to enjoy the Games with a cool drink in a relaxed Jamaican atmosphere," says
Franz Koch
, chief executive of Puma.
Puma Yard is free to the public (reservations required), and was designed with the London agency Innovision. The space is set up like a Back Yard for up to 500 guests, offering Kingston-inspired food stalls, a Beach Bar with refreshing libations, music and entertainment, recreational areas and giant TV screens. The site also features the Puma Quad store, set up in four multi-story containers, complete with terrace bar, where visitors can discover the Puma line of clothing specifically designed for the Olympics by Cedella Marley, Bob Marley's daughter.
Inside, the Puma Social Club offers a social space, also for up to 500 people, where "fantivities" will be held, including foosball or ping-pong competitions.
Copyright © 2023 FashionNetwork.com All rights reserved.