Puma CEO eyes growth in motor racing
June 8 - Puma Chief Executive Jochen Zeitz said there were "definitely" growth opportunities for the company in motor racing sponsorship as the sport extended its reach.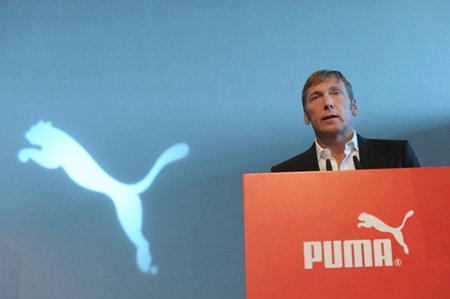 Puma CEO Jochen Seitz
"Formula One is opening new territories," Jochen Zeitz told Reuters in an interview on Wednesday after the sporting goods maker announced it had extended its partnership with Fiat's luxury sports brand and Formula One glamour team Ferrari.
Formula One has expanded well beyond the borders of Europe in recent years to stage races in uncharted territories for motosport such as South Korea, Abu Dhabi, China and Singapore.
India is due to host a grand prix for the first time this year at a circuit near New Delhi, while Russia has a race scheduled for the Black Sea resort of Sochi in 2014, after the Winter Olympics.
"It's a huge opportunity," Zeitz said, adding that Puma's focus is on expanding its brand in emerging markets such as eastern Europe, China and India.
Puma, owned by France's PPR, sells Ferrari-branded shoes, shirts and bags, and Zeitz and Ferrari Chairman Luca di Montezemolo earlier on Wednesday signed a long-term extension to the two companies' existing six-year partnership.
"Motorsport is one of our biggest categories, together with running and football," Zeitz said.
Puma on Tuesday announced it would supply the kits for South Africa's national football team, snatching the sponsoring contract from rival
Adidas
.
Puma, the world's number three sporting goods maker after
Nike
and Adidas, last month raised its outlook, saying it aimed to reach the 3 billion euro ($4.4 billion) sales mark this year, earlier than expected.

(Reporting by Mitch Phillips in London and Maria Sheahan in Frankfurt; Editing by Will Waterman)
© Thomson Reuters 2023 All rights reserved.