Puma opens the doors to PumaVision Headquarters
On March 15, Puma opened the doors to its new German headquarters in Herzogenaurach. Named PumaVision, the new complex embodies two of the main ambitions of PPR's subsidiary: to reduce its environmental impact and develop its Sport Performance segment.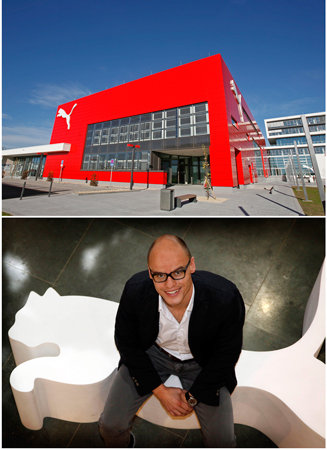 PumaVision and Puma's CEO Franz Koch
PumaVision is also the name of a programme run by Puma which combines and recognises the company's social and environmental responsibilities. The whole site, covering a total area of 50,000 m², includes offices, a 'Brand Centre', an even an outlet store, all of which were built using numerous energy-saving concepts. According to Puma, this is "the first carbon neutrally-operated company headquarters in its industry sector," featuring photovoltaic generating stations on the roof of the outlet centre. Furthermore, electricity for the Puma building in Herzogenaurach is generated from renewable energy sources only.
The first results of Puma's 'Environmental Profit & Loss Account' revealed that, for 2010, the direct ecological impact of Puma's operations translated to 7.2 million euros, while an additional 87.2 million fell upon its supply chain. The company has set sustainability targets for 2015, such as to reduce its carbon, energy and water consumption by 25%, and to manufacture 50% of its collections according to its internal sustainability standard, PUMA S-Index.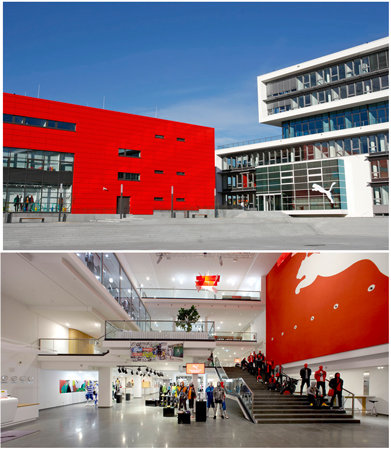 PumaVision
Another prime concern of the new headquarters besides environmental protection is to emphasise Puma's Sports Performance segment. This way, the 700 or so employees, whose average age is 32, can watch sports on a large screen or even play snooker and videogames in the 'Social Lounge'. This initiative fits right in with the company's 'Puma Social' campaign, dedicated to "After Hours Athletes" who wish to "turn the night into a sport." But the real athlete is Puma's new CEO,
Franz Koch
, who arrived at the company only 9 months ago at the age of 33 and is a former professional hockey player in Hamburg.
The new headquarters certainly points to Puma's growth strategy: to boost sales from its 'Sports Performance' segment to 40% of total sales by 2015. Its lifestyle and fashion segment currently represents 65%.
Copyright © 2022 FashionNetwork.com All rights reserved.