Ralph Lauren sees Europe problems hitting sales
Ralph Lauren Corp reported a higher-than-expected quarterly profit on Tuesday, helped by soaring sales, but said it expected the pace of revenue growth to slow, in part because of Europe's economic problems.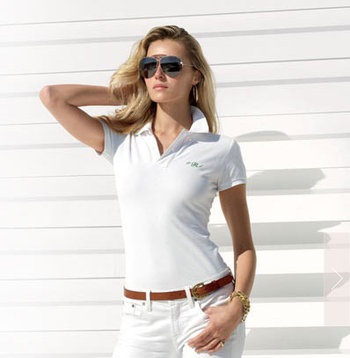 Photo: Ralph Lauren
The clothing company, which sells mid-tier basics to high-end luxury labels, forecast a "mid-single digit" percentage increase in revenue for its fiscal year, which began April 1. That compares with a 20 percent rise last year.
Results at Ralph Lauren, whose brands include Polo, Club Monaco and Chaps, are also under pressure because of its efforts to take more control of its China operations. That entails closing stores operated with a partner and replacing them over time with its own Ralph Lauren shops, which will be in more desirable locations.
The company will open another 60 or so stores in China in the next three years, all in "premier" spots, Chief Operating Officer Roger Farah told analysts on a call.
The company's shares were up 1.6 percent at $148.65 in midday trading.
In recent years, Ralph Lauren has sought to build its business in Asia, which accounts for 12 percent of its revenue and is the fastest-growing market for luxury goods. Those steps have included taking control of its licensees in South Korea and Japan.
Despite some pressures for the current year, the company's fourth-quarter profit breezed past analysts' forecasts.
Net income rose to $94.4 million, or 99 cents per share, from $73.2 million, or 74 cents per share, a year earlier. That was 15 cents higher than Wall Street's average estimate, according to Thomson Reuters I/B/E/S.
Revenue rose 13.7 percent to $1.62 billion. Sales at stores open at least a year gained 12 percent, with the biggest increase coming from the Club Monaco chain.
Farah said Ralph Lauren's investments in global e-commerce and the upgrade of its systems and infrastructure would weigh on results early in fiscal 2013, but were needed to sustain growth.
PULLBACK IN EUROPE
Early in the year, Ralph Lauren expects wholesale numbers to decline in Europe, which is grappling with a debt and currency crisis.
"We are concerned about near-term global economic trends, especially the uncertainty in Europe," Farah said. "Geopolitical issues are likely to dominate the consumer psyche for some time."
Wholesale sales will edge down, while retail sales growth should be in the low double digits, Ralph Lauren said.
But the company, which still gets the bulk of sales in the United States and Western Europe, said high-end shoppers had pulled back and were more "restrained" in their luxury clothing spending.
Sales will also take a hit from J.C. Penney Co Inc's plans to dump Ralph Lauren's "American Living" brand later this year.
Ralph Lauren also said it was doubling its quarterly dividend to 40 cents per share.
© Thomson Reuters 2023 All rights reserved.