Rihanna joins Michelle Obama as 'Women of the Year'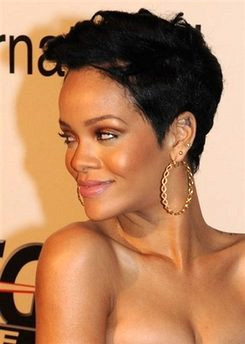 Rihanna - Photo : Mark Ralston/AFP
NEW YORK (Reuters Life!) - Rihanna joined U.S. first lady
Michelle Obama
, British fashion designer
Stella McCartney
and nine others on Monday to be honored as "Women of the Year" after the R&B singer took a public stand on domestic violence.
The annual Women of the Year Awards, published by Glamour Magazine for the past 20 years and sponsored by
L'Oreal
, pay tribute to women who have made major contributions to entertainment, business, sport, fashion, science and politics.
Barbados-born Rihanna, 21, whose hit songs include "Umbrella" and "Disturbia", joined the list after taking a public stand on domestic violence and urging other women to follow her lead after being beaten by her ex-boyfriend, singer Chris Brown.
Brown, who was one of the fastest rising R&B artists in the United States before the attack in February, was sentenced to five years probation and community service in August and has publicly apologized.
Michelle Obama received an award of special recognition for bringing the importance of mentoring to the forefront.
"She has demonstrated a commitment to helping the next generation of girls expand their horizons by providing them with the information and inspiration to envision themselves as the leaders of tomorrow," the magazine said in a statement.
Designer Stella McCartney was praised for her designs and also as a life-long vegetarian and animal rights activist who refuses to work with leather or fur, instead using man-made materials.
Tennis champion Serena Williams was honored for using her Serena Williams Foundation to give grants to U.S. college students and recently opening a secondary school in Kenya.
Journalists Laura Ling and Euna Lee were honored after making headlines earlier this year when they were arrested and imprisoned while reporting on the plight of North Korean women who cross into China to escape starvation.
Also among the honorees were writer, educator and civil rights activist Maya Angelou, pediatrician Jane Aronson who is credited with bringing the plight of orphans to the world's attention through her Worldwide Orphans Foundation, and Marissa
Mayer
, who helped make
Google
the number-one search engine.
Comedian Amy Poehler also made the list, cited as an inspiration for young girls.
Susan Rice, the first female African-American U.S. ambassador to the United Nations, was praised for putting women's needs at the forefront of the American agenda at the U.N. while Maria Shriver, California's first lady, was credited for redefining her role into a platform for change and leadership for women.
The winners, featured in the December issue of Glamour magazine on newsstands from November 10, were picked by an advisory board made up of past honorees ranging from Jennifer Lopez to Nora Ephron to Katie Couric.
(Writing by Belinda Goldsmith, Editing by Miral Fahmy)
© Thomson Reuters 2023 All rights reserved.