Rip Curl downsizes in Europe
"Back to basics": during these difficult times for surf brands, the trend is a return to the basics, and it can be radical. The latest example is that of Rip Curl, who, in response to changes in its market since the crisis began in 2008, decided to substantially revise its European strategy. The brand highlights the challenges of its fashion segment and points out the drop in textile consumption in France and the 15% decline recorded in April, according to the IFM.

"Given these trends and in the absence of encouraging prospects in the medium term, we made the decision earlier this year to move away from ready-to-wear in favor of more emphasis on what we do best, what we like the most," said Olivier Cantet, the group's CEO, said in a statement.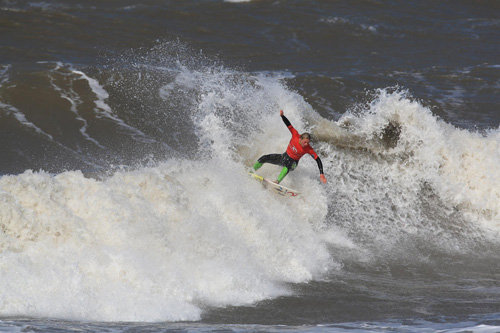 Rip Curl is concentrating its forces on the world of surfing, as seen here with its Gromsearch event, which takes place on Europe's beaches every summer / Photo: Jason Feast
Namely, surfing. The group estimates that these choices will garner a good response internationally. "This international strategy should pay off. Rip Curl is part of a small club of action sports brands that are still owned and managed by enthusiasts (such as
Burton
,
Patagonia
and Etnies). With its intermediate size of over 400 million Australian dollars (317 million euros), Rip Curl has a limited room for maneuver and must choose its battles to be successful and grow its business. By focusing on what we love most, what we do best, the company has had a year of double-digit growth in all regions outside of Europe ".
Thus, on the European market, Rip Curl intends to focus on products geared towards surfing and snowboarding, whether it be suits, bikinis or boardshorts and technical clothing for the mountains. Overall, the niche it is building upon is young and graphical. In total, Rip Curl intends to present about a thousand products each season and has announced 2000 target accounts throughout Europe.
This is a very targeted objective which requires a very narrowly tailored plan involving layoffs, it seems, of 29 people connected to the headquarters at Hossegor and five people in the logistical structure. This is currently under discussion. "We are working with the works council to study the possible reclassifications, voluntary redundancy proposals and to cope with redundancies that remain, says Mado Ustarroz, director of human resources. We will support new business both financially and by setting up a business incubator at the Hossegor site."
Because, clearly, by leaving the world of ready-to-wear, the brand is reviewing its European ambitions and scaling them down. Whereas, in spite of a decline, its turnover on the European continent was still nearly 92 million euros in 2011, Rip Curl announced a targeted turnover of 60 million euros in the coming years. The group is certainly counting on thus regaining a profitability which had declined severely in recent seasons.
It explains wanting to close its stores in city centers and to focus on areas of ski. The group stressed that "after the 10 planned shutdowns throughout Europe, we have a network of 50 stores and partnership grouped in three regions of ski: the Southwest of France, the French and Swiss Alps, and finally Spain and Portugal ". Rip Curl says that if it closes its shop in the Rue Sainte Catherine Bordeaux in the southwest it will be opening two new stores on the
Atlantic
Coast.
Copyright © 2023 FashionNetwork.com All rights reserved.