Safilo trims loss on U.S, Europe rebound
MILAN, Nov 5 (Reuters) - Safilo (SFLG.MI), Italy's No.2 high-end eyewear maker behind Luxottica (LUX.MI), slashed net loss in the third quarter, helped by a rebound in demand for sunglasses in key U.S. and Europe markets.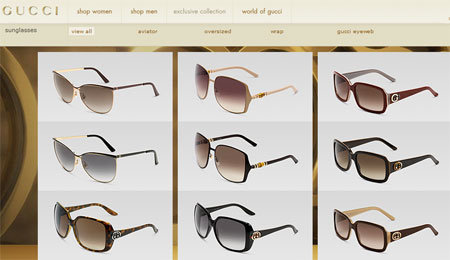 Gucci Sunglasses
Safilo, which makes glasses for top luxury brands such as
Gucci
, Armani and
Dior
, said all its main licenced brands had performed well, in line with the best trends in the sector.
"We have continued to see a recovery in the business and our performance has been driven by an improvement in some European countries, good results in the U.S. and a solid growth in emerging countries," Chief Executive
Roberto Vedovotto
said in a statement on Friday.
The eyewear maker, which unlike Italian rival Luxottica generates most of its revenues from wholesale, reported a 11.9 percent growth in third-quarter net sales to 237.9 million euros ($336.4 million), beating the average forecast of 230.8 million euros given by six analysts polled by Thomson Reuters I/B/E/S.
Net loss fell to 0.4 million euros compared with a loss from ordinary activities of 22.1 million euros a year ago.
Safilo agreed a debt restructuring with banks in 2009 and Dutch investment company Hal Holding, one of Safilo's largest clients, rescued the company through a debt and equity deal.
The company, which has undergone a hefty restructuring that halved its debt, is likely to benefit from top-line sales, operating efficiency and rebounding Europe, analysts say.
However, they say a risk for Safilo could come in case of missing the renewal of the Armani licence at the end of 2012.
Armani is among the group's top licensed brand in terms of revenues alongside Gucci and Dior, which together accounted for 45 percent of turnover in 2009. Both Safilo and Armani have said that it is premature to talk about a renewal.
Luxottica, the world's biggest eyewear maker, has raised its full-year net profit target to 400 million euros, 27 percent higher than in 2009, after beating forecasts with its third-quarter results.
Safilo's shares, 37 percent owned by HAL holding, closed up 0.67 percent at 12.00 euros on Friday ahead of earnings, outperforming Italy's all-share market index .FTITLMS.
(Reporting by Antonella Ciancio)
© Thomson Reuters 2023 All rights reserved.