Saks Fifth Avenue arrives in Kazakhstan
It is in the former capital of Kazakhstan, one the richest countries of Central Asia located in between Russia and China, that Saks Fifth Avenue has decided to build its next department store. Expected to open in August 2012 in the city of Almaty, the 3-story building, covering a total area of 8500 m², is supposed to look almost identical to Saks' original store in New York.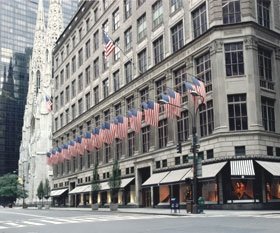 Saks Fifth Avenue in New York
The store is going to be located within Esentai Shopping Mall and will become part of a bigger on-going project that also includes a 5-star hotel, luxury residential towers, etc.
The American chain is working in partnership with a local group named
Viled Group
, which already operates around 15 other boutiques in Almaty and sells brands such as
Cartier
, Van Cleef & Arpels, Tiffany, etc. Kazakhstan only has around 15 million inhabitatnts, but it has a huge economic power thanks to its petroleum reserve. In 2006, the country's gross domestic product came to 80.6 billiom dollars, and the government expects it to reach 300 billion by 2015!
Copyright © 2022 FashionNetwork.com All rights reserved.