Samsonite buys Hartmann in luxury push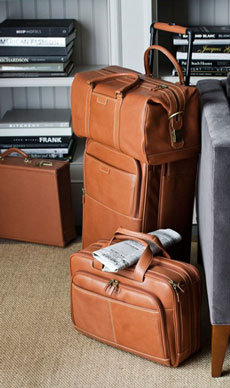 Photo: Hartmann
Samsonite
International SA on Thursday bought high-end luggage brand Hartmann in a $35 million push to win a bigger share of the luxury travel goods market and build up U.S. sales.
In its second deal in as many months, Samsonite, the world's largest luggage maker, acquired Hartmann from private equity firm Clarion Capital Partners for $35 million in cash and said the deal would start adding to its earnings per share in 2013.
Hartmann, founded in 1877, sells products such as $995 carry-on bags and $80 leather money clips at retailers including
Macy's
and Bloomingdale's. Its sales rose 26 percent to $23 million last year.
Hartmann, once a larger brand revered for its high-quality leather and craftsmanship, was subsequently hurt by numerous ownership changes and sustained damage to its cachet from a growing focus on less expensive items.
"We think there is a great opportunity to re-establish the credentials of the business," Samsonite Chief Executive Tim Parker told Reuters in an interview. "If it had been nourished and looked after properly, it would be a much bigger entity."
Samsonite will focus more on Hartmann's higher-end offerings, such $600 wheeled suitcases, rather than on items for $200 and less and plans to expands Hartmann's product portfolio.
Samsonite will use its distribution network in more than 100 countries to eventually bring Hartmann products to new markets, while Hartmann will help boost sales in the United States, where Samsonite faces strong competition from
Tumi
Holdings Inc.
Last quarter Tumi, which gets nearly two-thirds of its sales in North America, reported sales rose 21.4 percent.
Samsonite, which makes luggage under the Samsonite and American Tourister names, saw sales of its main brands rise 34.4 percent last year, bolstered by big gains in Asia. Samsonite's North American sales were up 28.1 percent in 2012.
Last month, Luxembourg-based Samsonite said it would buy High Sierra Sport Company for $110 million, aiming for a larger share of the North American casual bag market.
© Thomson Reuters 2023 All rights reserved.