Schott entrusts Groupe JAJ with shoes
Clearly, the refocusing of the Group JAJ's activity goes to brand Schott JAJ which holds the lucrative license for the manufacturing and distribution of clothing to Europe and the Middle East. In the first quarter of its fiscal year (April 1 to June 30), total sales increased 35.4% to 2.7 million.

The strongest growth came from France up 47.2%. The company is certainly amid some type of changes from this steady summer season, compared to last year. But the sharp rise in sales orders (+50%) in the domestic market expected growth in the first quarter due to initial deliveries already made. Schott particular benefits from a big return from demand of the bomber jacket. The brand has 700 multi-brand stores in France and has recently opened a corner in Printemps.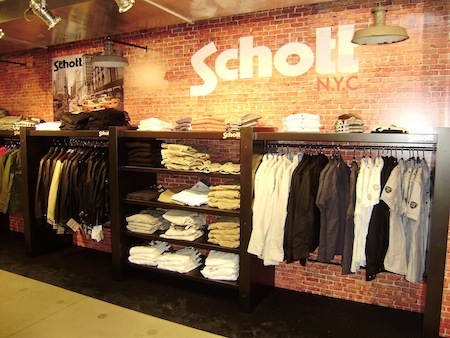 Schott's concession at Printemps store, Paris
Exports, meanwhile, grew by 17.9%. The company says that by including the specific products under the Schott brand made some key accounts for the export business. It is now worth 45% of the firm's activity, especially in England and Spain (the brand operates heavily here with the
El Corte Ingles
department stores). Bruno Dauman, CEO of Groupe JAJ hopes turnover will at least grow 10% on the current financial year, to almost 19 million Euros, plus hopes for further margin improvement on trade beyond 40% and a return to positive operating profit.
For comparison, the increase in turnover for the year 2009/2010 was 3.7%, with an operating profit close to the balance and a positive net income. It is true that a real change in positioning that Schott experienced for several seasons, with its clothing lines, image rejuvenating as well as an important advertising investment.
Further strengthening its relationship with the brand, JAJ Group has signed a license for designing and selling Schott shoes from September 2011. JAJ already sold the shoes of the summer, Rivieras. Schott's previous footwear license was held by the group
Royer
. The new product offer, created by an internal team is very American in style with for example boots sold (retail price) between 100 and 150 Euros. The range is intended to be just the first step, rather limited, with about twenty shoe designs.
Original by Jean-Paul Leroy. Translated by Rosie Hart
Copyright © 2023 FashionNetwork.com All rights reserved.