August 18 - Retailer Sears Holdings Corp, which is controlled by billionaire investor Eddie Lampert, reported a wider-than-expected quarterly loss on weak sales, bigger discounts and higher costs.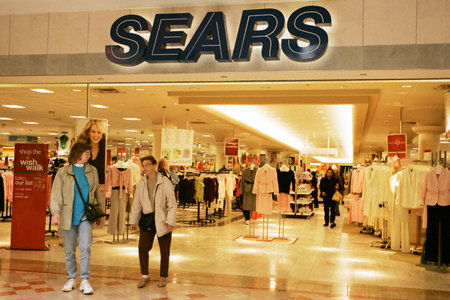 Shoppers at the Sears store in Woodbridge Mall, New Jersey. Sears is a wholly owned subsidiary of Sears Holdings Corporation.
The company blamed the lackluster sales numbers on weak demand for consumer electronics at both its Sears department stores and Kmart discount chains.
Sales at Sears Holdings have fallen every year since 2005, when Lampert formed the company by merging Kmart and Sears.
The retailer, home to brands such as Craftsman tools and Kenmore appliances, is a victim of the weak economy and stiff competition as well as its own problems.
Analysts have criticized Sears for relying too heavily on cost-cutting to boost profit, rather than upgrading its stores and improving its customer service.
The company faces tough competition from retailers including Home Depot Inc, Lowes Cos Inc, Wal-Mart Stores Inc, Target Corp and Best Buy Co. It has been losing market share in appliances and apparel.
In June, Sears Holdings laid off 700 employees who worked in the appliance section of its Kmart discount stores.
In the second quarter, sales fell 1.2 percent to $10.3 billion, while analysts expected $10.5 billion. Sales at U.S. stores open at least a year fell 0.7 percent, with those at the namesake stores down 1.2 percent and Kmart staying flat.
The company also took bigger discounts to boost sales of appliances, apparel and home goods. It noted that selling and administrative expenses at Sears Canada rose $53 million from last year.
Sears Holdings' net loss widened to $146 million, or $1.37 a share, from $39 million, or 35 cents a share, a year earlier.
Excluding items, the loss was $1.13 a share. Three analysts on average were expecting a loss of 64 cents, according to Thomson Reuters I/B/E/S.
Earlier this week, Sears Canada Inc reported a quarterly net loss, compared with a year-earlier profit. Same-store sales continued to drop as competition increased.
Sears Holdings owns a 93 percent stake in Sears Canada, according to Thomson Reuters data.

(Additional reporting by S. John Tilak; Editing by Lisa Von Ahn)
© Thomson Reuters 2022 All rights reserved.