Sears needs more than Kardashians to save apparel
Sep 12 - When it comes to fashion, Sears may need an extreme makeover.

The 125-year-old department store chain has long been known more for tools and appliances, as opposed to cutting-edge fashions.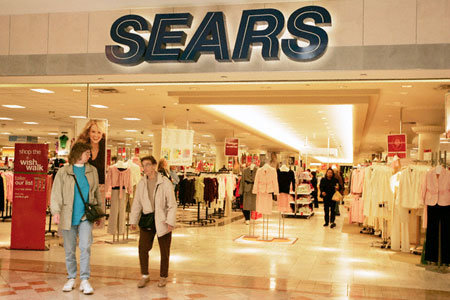 Shoppers at the Sears store in Woodbridge Mall, New Jersey (photo by Corbis)
"The Sears brand doesn't connote any sort of fashion sense," said Craig Johnson, president of consulting firm Customer Growth Partners.
"It connotes 'Oh yeah, that's where my mother used to shop, or maybe my grandmother used to shop, or that is where my dad goes when his car battery dies,'" said Johnson.
Last month, the retailer sought to spice up its apparel image by enlisting TV's glitzy Kardashian sisters to launch an exclusive line of clothing, the Kardashian Kollection, at 400 stores across the United States.
The line includes apparel, jewelry, handbags, lingerie and footwear featuring "Kim's glamorous red carpet looks, Kourtney's more Bohemian chic vibe and Khloe's rocker style."
Whether the Kardashians can succeed in making Sears more hip remains to be seen. At a Sears store in Jersey City, New Jersey, recently, one shopper said he never buys clothes there.
"I get better apparel for better prices elsewhere," said Alex Torres, a 36-year-old airport supervisor.
Torres' attitude epitomizes the problems facing Sears Holdings Corp, whose sales have fallen every year since 2005, when billionaire investor Eddie Lampert merged the Sears and Kmart chains.
In the most recent quarter, Sears Holdings' net loss almost quadrupled to $146 million as it slashed prices to compete with the likes of Wal-Mart Stores Inc, Target Corp and Home Depot Inc.
Sears "does not pop up on most people's radar screen when you are going to buy fashion," consultant Johnson said, adding the company is better known for its tools, appliances and batteries.
"I call it a two-part issue. The first part of it is a fashion issue. The second issue is the brand itself. The umbrella brand is still Sears or Kmart. Both brands are damaged brands," he said.
FIX THE BOX
Also, even if a merchant gets its fashion right, selling clothes is a challenge, especially when it has a reputation for poor service and run-down stores -- issues that have plagued Sears for some time as the department store has failed to invest enough in its stores.
"Sears has to invest in stores. Else, you face the prospects of becoming irrelevant," said Mark Cohen, a marketing professor at Columbia Business School and a former chief executive officer of Sears Canada. "Sears stores are tragically underinvested."
Others agreed.
"They have got to fix the box. They have got to make the stores look nicer. They have got to make the stores look contemporary," America's Research Group President Britt Beemer said.
Sears fights a tough battle on the apparel front with department stores including Macy's, Kohl's, Dillard's and J.C. Penney.
"I think they missed the boat. They had their chance to reinvest in the stores. And now that the Internet is gaining more and more share ... they are too late," said Credit Suisse analyst Gary Balter. "They have lost the customer. You can see that from their numbers."
DITCH THE CLOTHES?
Rather than spending too much to revive a lackluster apparel business, Sears should focus more on its signature brands such as Craftsman tools, Kenmore appliances and DieHard batteries, some analysts said.
"They can't take resources away from those businesses to try to, you know, fix a dogged apparel business that's never going to be that great," Morningstar analyst Paul Swinand said. "I would rather see them defend their core strengths."
Sears should "consider reinventing themselves as primarily a hardline business" and drastically cutting back on the number of stores, Johnson said.
The reason is that names like Craftsman and Kenmore have strong brand loyalty.
"I like Craftsman because they give me a lifelong guarantee," said Oscar Alzade, a 54-year-old handyman.
There are fewer fans for Sears' clothing lines.
"Lands' End is a partial bright spot. The problem is that it has been so damaged within the Sears environment that the only time people buy it is when it goes on deep promotion," Johnson said. Sears bought clothing chain Lands' End in 2002.
Sears has been steadily losing share to retailers such as Lowe's, Home Depot, Best Buy and hhgregg on the appliance front. Sears, which once used to own about 40 percent of the appliance market, has seen its share fall to about 27 percent, Johnson pointed out.
Still, getting out of the apparel business may be a hard decision, considering the unit accounted for about 15 percent of sales at the company's namesake chain, Balter said.
Also, apparel is a high-margin business, so even sluggish sales can generate profits.
"Even though they are not doing well in apparel, it is still where the profit dollars come from," Beemer said.

(Reporting by Dhanya Skariachan; Editing by Matthew Lewis)
© Thomson Reuters 2023 All rights reserved.