Sears profit more than doubles, shares up
CHICAGO/NEW YORK (Reuters) - Sears Holdings Corp (SHLD.O) posted quarterly profit at the high end of its own forecast, as lower costs helped blunt the impact of slightly weaker revenue, and its shares rose 2 percent.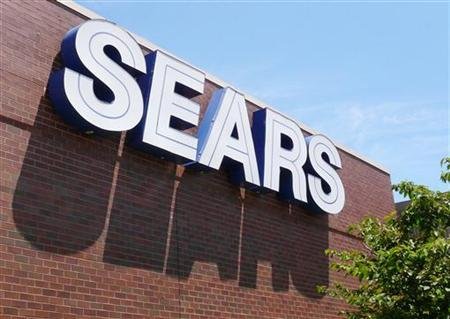 Sears, run by hedge fund manager Edward Lampert, also improved its cash position while reducing debt over the year.
"I recognize that our financial results, while substantially improved from 2008, remain well below where we would like them to be," Lampert said.
Net income more than doubled to $430 million, or $3.74 per share, in the fourth quarter ended on January 30 from $190 million, or $1.55 per share, a year earlier.
Excluding store-closing costs and hedge fund gains or losses, earnings were $3.99 a share, compared with the company's January 7 forecast of $3.36 to $4.06.
Analyst estimates ranged from $2.62 to $4.05, according to Thomson Reuters I/B/E/S, though it was not clear how various analysts accounted for one-time items.
Analysts are concerned that Lampert relies too much on cost cuts to improve profits rather than on investments to boost sales at its Sears department stores and Kmart discount chains.
Yet in recent weeks, Sears outlined three efforts to extend its reach, with plans to franchise its Sears Auto Centers, sell its Craftsman tools at Ace Hardware stores, and license its DieHard power accessories to be sold at other retailers.
Credit Suisse analyst Gary Balter applauded the deals as evidence of Sears "thinking outside the box" but cautioned that Sears stores could suffer as a result, since customers will be able to go elsewhere to buy some its most valued brands.
KMART SAME-STORE SALES UP
Same-store sales, or sales at stores open at least a year, fell 6.1 percent at domestic Sears stores and rose 1.7 percent at Kmart stores. The gain at Kmart was primarily driven by increases in toys and home goods while the decline at Sears was caused by decreases in the home appliance, lawn and garden and home electronics categories.
Sears' Craftsman tools and Kenmore appliances make it somewhat more dependent on the housing market than other more general retailers.
The company's cost of sales, buying and occupancy was 1.7 percent lower, helping to boost its gross margin rate by 1 percentage point to 28.5 percent.
Revenue slipped 0.2 percent to $13.25 billion, hurt by 62 fewer stores and a 2.5 percent decline at U.S. stores open at least a year.
The company continues to evaluate its portfolio of more than 2,200 Kmart and Sears stores, Lampert said in a letter to shareholders, though he added that the company is looking for ways to avoid additional store closings.
Sears had $1.7 billion of cash on January 30, up from $1.3 billion a year earlier.
Total debt was $2.5 billion, down from $2.9 billion a year earlier. Sears extended its revolving credit facility in 2012.
Sears Canada Inc (SCC.TO), which is majority owned by Sears Holdings, posted a 29 percent increase in quarterly profit, helped by cost cuts.
Sears shares were up $1.84 at $97.50 in premarket trading.
(Reporting by Brad Dorfman and Martinne Geller; Editing by Lisa Von Ahn and Derek Caney)
© Thomson Reuters 2023 All rights reserved.