Sears shares could fall 50%
NEW YORK, Aug 23 (Reuters) - It may be time to see the softer side of Sears stock, according to one report.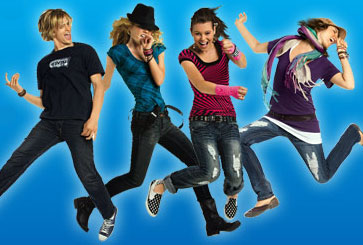 www.Sears.com
Sears Holdings Corp (SHLD.O) shares could fall 50 percent after extreme cost-cutting depleted the retailer's ability to generate cash flow necessary to win back market share from
Wal-Mart
Stores Inc (WMT.N) and other rivals, Barron's said in its Aug 24 edition.
Shares of Sears have fallen 66.2 percent from their April 2007 peak, closing Friday 21 August at $66.02 on the Nasdaq. They dropped 11.9 percent on Thursday 20 August after falling sales led to a surprise $94 million second-quarter loss for the Hoffman Estates, Illinois-based company.
Sears' billionaire Chairman Edward Lampert ventured into retailing earlier this decade when he got a controlling stake in Kmart Holding Corp when it emerged from bankruptcy, and in 2005 merged it with the former Sears Roebuck & Co.
Yet retailing analysts have blamed him for focusing too much on cost-cutting and keeping inventory levels in check, and not enough on merchandising.
A Sears spokesman had no immediate comment. Lampert's hedge fund firm, ESL Investments Inc of Greenwich, Connecticut, did not answer calls.
Forbes magazine in March estimated Lampert's net worth at $2 billion, down $1.5 billion from a year earlier, as he was stung by some investments, including those in Sears and Citigroup Inc (C.N).
According to Barron's, Sears' free cash flow fell 46 percent from 2006 to 2008, and is likely to be stunted in 2009 and 2010 as cash-strapped consumers keep a lid on spending.
The newspaper also said Sears cannot borrow at a level necessary to help win market share from more aggressive rivals including Wal-Mart, Home Depot Inc (HD.N),
Kohl's
Corp (KSS.N), Lowe's Cos (LOW.N) and
Target
Corp (TGT.N).
Citing a report from
Morgan
Stanley analyst Gregory Melich, it said Sears may be making "maintenance" capital expenditures of only about $2 per square foot, while Lowe's, Target and Wal-Mart are spending $6 to $8 per square foot.
The newspaper said that for many investors, Sears' ultimate worth resides in its liquidation value. It said the company has "much hidden value" in its 73 percent stake in Sears Canada Inc (SCC.TO) and well-known brands such as Craftsman, DieHard, Kenmore and Land's End.
Still, it said Sears cannot simply dump some real estate given the state of credit markets and glut of existing space. It also said the Craftsman, DieHard and Kenmore brands are so closely identified with Sears that they may not be worth much if they were jettisoned.
(Reporting by Jonathan Stempel; editing by Gunna Dickson)
© Thomson Reuters 2023 All rights reserved.