Skechers offers to buy Heelys for $142.8 million
SAN FRANCISCO (Reuters) - Footwear maker Skechers USA Inc sweetened its offer to buy Heelys Inc , which makes sneakers with a wheel in the heel, on Wednesday, sending up Heelys shares by 13 percent.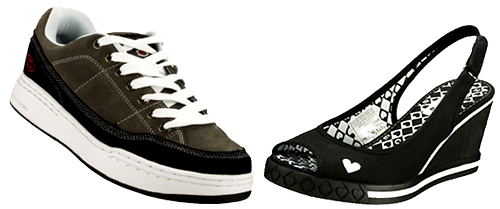 www.Skechers.com
In a letter to the Heelys board, Skechers also said it may raise its latest cash bid of $142.8 million, or $5.25 per share, after an examination of Heelys' financial books.
The offer represented a premium of 8.2 percent to Heelys' closing price on Tuesday, Skechers said, and a 21 percent premium to the closing price on May 27.
The proposal was a follow-up to a formal but confidential offer made on May 28, when Skechers proposed a purchase price of between $4.75 and $5.10 a share.
"Given Heelys' failure to provide a positive response to our May 28 proposal, we thought it would be best for both companies, and our respective stockholders, to publicly announce this proposal and our interest in pursuing this transaction," Skechers Chief Executive Robert Greenberg wrote in the letter to Heelys' Chairman Gary Martin.
The two sides have discussed a potential deal since December 2007, Greenberg wrote.
Heelys, based in Dallas, posted net sales of $183.5 million in fiscal 2007. The company, with a market capitalization of about $132.5 million, makes footwear geared to kids and teens.
Manhattan Beach, California-based Skechers, which has a wholesale business as well as retail stores for its trendy shoes, said it would consider a stock-and-cash deal if Heelys considered that more attractive to its shareholders.
Skechers is over five times the size of Heelys in terms of market capitalization. It posted sales of $1.39 billion in fiscal 2007 and sells its shoes in more than 100 countries.
In the May letter, Greenberg wrote that his company was impressed by Heelys' "strong brand and proprietary technology," adding that Skechers had $152.4 million in cash and cash equivalents as of March 31 as well as ready access to third-party financing.
Investment bank Financo has been advising Skechers on the proposal.
Shares of Heelys rose to $5.50 in extended trading from their Nasdaq close of $4.87, up 2 cents.
Skechers shares closed down 3 cents to $19.94 on the New York Stock Exchange.
(Reporting by Alexandria Sage; additional reporting by Karen Jacobs; editing by Jeffrey Benkoe)
© Thomson Reuters 2023 All rights reserved.