Sports Direct to make year profit target
Feb 16 - Sports Direct, the country's biggest sporting goods retailer, said it would meet its target for year profit, with trading still strong after a robust third quarter.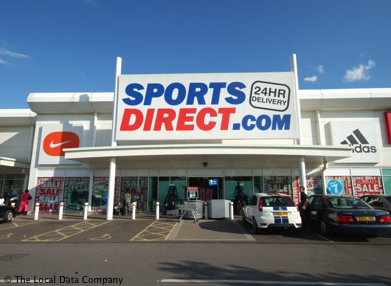 Sports Direct store in London (photo by The Local Data Company)
"Since the end of January, the group's underlying performance has continued to be strong, especially within the UK retail division," Chief Executive Dave Forsey said on Thursday.
"Therefore we shall reach our full year targeted underlying earnings before tax, interest, depreciation and amortisation of 205 million pounds (before the charge for the bonus share scheme)."
The firm, controlled by Newcastle United owner Mike Ashley, said total sales for the 13 weeks to January 23 increased 12.1 percent to 416 million pounds.
Sports Direct, which owns Sports World and Lillywhites stores as well as brands including Slazenger, Lonsdale and Dunlop, said gross profit increased 8.4 percent to 167 million pounds.
Shares in Sports Direct, which have risen 58 percent over the last six months, closed Wednesday at 167.6 pence, valuing the business at about 933 million pounds.

(Reporting by James Davey; editing by Neil Maidment)
© Thomson Reuters 2023 All rights reserved.