Swatch eyes further sales rise after record 2011
April 10 - Watchmaker Swatch Group remains focused on record sales of more than 7 billion Swiss francs ($7.67 billion) for the year and sees that figure approaching 10 billion within three years, its head said in a Sunday newspaper.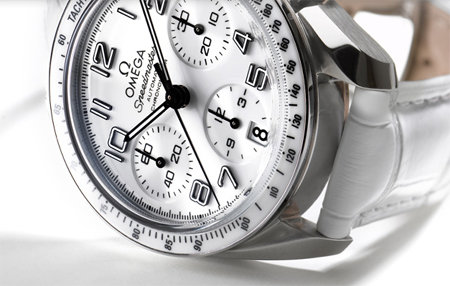 Omega (Swatch Group)
In some instances two years would be needed to work through orders as one of the biggest challenges remained expanding production capacity, Chief Executive
Nick Hayek
said in an interview with Switzerland's NZZ am Sonntag.
In early March Hayek said Swatch Group, which produces jewellery as well as being the world's biggest watchmaker, was targeting sales exceeding 7 billion francs for 2011 and would hire 1,000-1,500 in Switzerland to boost production capacity.
"The goal remains," he said, adding the franc's strength had shaved off about 150 million francs off revenues in the first three months of the year. "But I am sure that we will see double digit growth in local currencies."
Hayek said one or two jewellery brands might possibly find their way into the firm's fold.
"But even without additional buys, in two to three years we will be able to achieve sales approaching 10 billion francs with our own brands."
The CEO has on several occasions said the strong Swiss franc, which soared to record highs against both the euro and the dollar in recent months, was hurting Swiss businesses. He repeated this view in the interview with the NZZ am Sonntag.
Demand for luxury watches, which bounced back in 2010 after a severe slump, is showing no sign of abating in the first months of this year, fuelled by recovery in the United States and growing appetite from emerging markets consumers.
The firm, best known for its colourful plastic Swatch watches but which also owns higher-end brands such as
Breguet
,
Blancpain
and
Omega
, said in January that 2010 sales amounted to 6.44 billion Swiss francs with all price segments and geographic regions contributing to growth. The group is also grappling with a rise in the price of gold, diamonds and other commodities used in its products. To partially offset the increase, Hayek said the firm had in some countries and for some brands raised prices between 4 and 6 percent.
"Price rises are for us not the appropriate means for reacting to changes in the exchange rate," Hayek said. "It's counterproductive simply because of short-term movements in currencies to raise prices."
Peers like luxury goods group
Richemont
and independent watchmaker
Audemars Piguet
have said they want to pass on the cost of the stronger franc and the rise in metal prices to their customers.
(Reporting by Catherine Bosley; Editing by Jon Loades-Carter)
© Thomson Reuters 2023 All rights reserved.