Swatch FY sales miss f'casts, sees H2 rebound
* 2008 gross sales rise 4.3 percent in local currencies
* Gross sales 6.0 bln Sfr vs Reuters poll of 6.1 bln
* Says sales likely to recover in second half of 2009
(Adds details)
ZURICH, Jan 29 (Reuters) - Swatch Group (UHR.VX), the world's largest watchmaker, expects 2009 sales to rise modestly as it anticipates a pick up in consumer spending in the second half of the year after a challenging first half.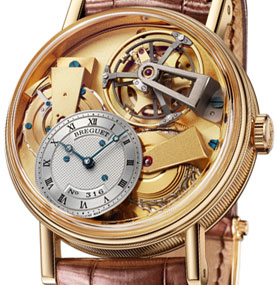 "Tradition" of Breguet - Swatch Group
Gross sales rose 4.3 percent to 6.0 billion Swiss francs ($5.2 billion), below the average estimate of 6.1 billion francs in a Reuters poll of 11 analysts.
"A decrease in the first three to four months compared to the very high previous year figures indicates a rather manageable recession," the group said in a statement on Thursday.
"A mild increase in consumption and sales for 2009 is expected, because of an anticipated rebound in the second half of 2009," Swatch Group said.
The group, which is best known for its colourful plastic Swatch watches, also owns higher-end brands such as Breguet and Blancpain and Omega, said gross sales rose 0.4 percent in Swiss francs.
Net sales edged up 0.5 percent in Swiss francs to 5.7 billion francs, Swatch said.
Demand for watches slumped over the past couple of months as consumers kept purse strings tight on concerns about job security and the global economy.
Earlier this month, Richemont said it saw no signs of a recovery after third-quarter sales missed forecasts, while Tiffany & Co cut its profit forecast. (Reporting by Katie Reid)
© Thomson Reuters 2023 All rights reserved.