Swatch Group founder Nicolas Hayek dies at 82
ZURICH (Reuters) - Swatch Group Chairman Nicolas Hayek, one of Switzerland's most prominent and colorful entrepreneurs, died of heart failure at his workplace on Monday, the company said.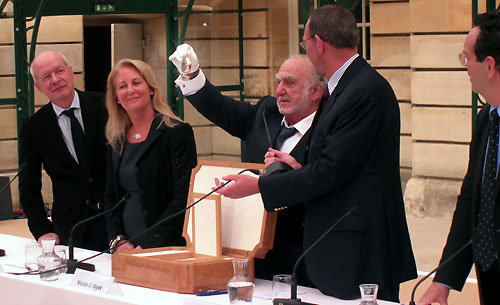 Nicolas G. Hayek, 24th September 2008 at the 'Petit Trianon de Versailles', Paris
Hayek, who turned 82 in February, was widely credited with saving the Swiss watchmaking industry by reorganizing the ailing Asuag and SSIH watch companies, merging them into
Swatch Group
, which he took over with other investors in 1985. He became chief executive and chairman in 1986.
"With the unexpected death of Nicolas G. Hayek, Switzerland and the Swiss economy lose one of their leading personalities," Swiss President and Economy Minister Doris Leuthard said in a statement.
Hayek was a driving force for the Swiss economy with his courageous engagement for entrepreneurship, she said, adding, "We owe Mr. Hayek a lot."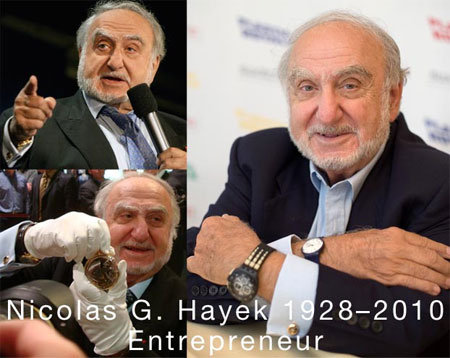 www.swatchgroup.com
SAVIOUR
In the late 1970s and early 1980s, the Swiss watch industry, which excelled in complicated mechanical watches, had trouble coping with the advent of highly reliable and much cheaper quartz watches.
Hayek did not hesitate to embrace quartz technology for the Swatch watch, launched in 1983, and the colorful plastic watch quickly became popular all over the world.
Its success drove the recovery of the Swiss watchmaking industry and helped turn the company into the world's largest watchmaker.
"Mr. Hayek's contribution to the Swatch Group and the Swiss watch industry was immense. We view today's announcement as a significant loss for the company," said Citi luxury goods analyst Thomas Chauvet.
Executives across the industry heaped praise on Hayek, with Jean-Claude Biver, boss of official FIFA World Cup timekeeper Hublot saying his death left "an incredible void" in the Swiss watchmaking industry.
He left a company in good health. In May Hayek, who was often seen with two or three watches on each wrist, said Swatch was on course for a record year, with sales expected at more than 6 billion Swiss francs ($5.5 billion).
"Nicolas G. Hayek's extraordinary vision enabled him to realize and ensure the sustainability of a strong watchmaking enterprise with high Swiss added value. He is rightly recognized as a leading entrepreneur in this country," the company said.
Hayek was often critical of financial markets, and last year teamed up with the vice-president of the populist SVP party, Christoph Blocher, and the head of the Social Democrats to call for a firm stance on banking regulation.
Hayek's son, Nick Hayek, has been CEO of Swatch Group since 2003 and was elected to the board at the last annual general meeting in May.
Chauvet said the "Hayek pool" remains the largest shareholder in the group, controlling 41 percent of the votes. Analysts said this was unlikely to change with the passing of Swatch's leading light.
"The Swiss watch industry has lost a legend and he will be sorely missed. I expect a smooth generational changing of the guard at Swatch Group with the Hayeks firmly in control," said Kepler Capital Markets analyst John Cox.
(Reporting by Martin de Sa' Pinto, Editing by Dan Lalor, John Wallace and Matthew Lewis)
© Thomson Reuters 2023 All rights reserved.