Target raises dividend, faces political critics
June 8 - Target Corp announced a 20 percent increase in its quarterly dividend on Wednesday, but its shares hit an 18-month low on concerns that the retailer is not seeing enough shoppers buy the discretionary items that are a cornerstone of its strategy.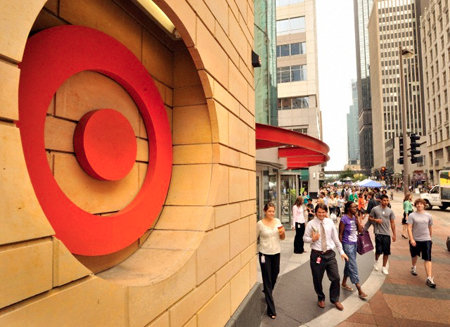 Target store in Minneapolis, Minnesota, USA (Photo: Corbis)
Target's growth in recent years came from selling a wide variety of higher-margin apparel and decorative home goods along with basics such as detergent. Lately, consumers -- or "guests" in Target's parlance -- have focused on buying the basic goods they need and little else.
Guests are focused on the "value end" of the price spectrum, Chairman, President and Chief Executive Gregg Steinhafel told shareholders at the company's annual meeting, held at its first store within Pittsburgh's city limits. The meeting was webcast.
Following his prepared remarks, discussion of Target's retail strategy essentially ground to a halt.
Instead, Steinhafel was peppered with questions about a $150,000 donation Target made in 2010 to MN Forward, a group that supported gubernatorial candidate Tom Emmer. Emmer, who lost the race to Gov. Mark Dayton, supported a proposed amendment to Minnesota constitution to ban gay marriage.
Several shareholders and shoppers were disappointed after Target donated money to the group. Musician Lady Gaga, who supports gay rights, walked away from plans to sell a special album at Target in early 2011.
Bill de Blasio, New York City public advocate and trustee of the New York City employees retirement system, which holds about $50 million in Target shares, said on Tuesday that he is "deeply concerned" when he sees those pension investments used unwisely.
A number of shareholders at Wednesday's meeting echoed his comments, repeatedly asking Steinhafel about the donation. Target has changed its review process for donations since the MN Forward donation, but some shareholders would like to see a more explicit apology and broader change from the company.
"Last year was a great learning experience for us," Steinhafel said as he repeatedly suggested moving onto a different topic.
"Does anybody have a question relating to our business that is unrelated to political giving? I would love to hear any question related to something else," Steinhafel said.
Analysts have expressed concerns that the company is losing some of its cachet -- and profit margins -- as the economic malaise being felt by shoppers eats away at spending on clothing and other goods.
In May, sales at Target stores open at least a year rose 2.8 percent, at the low end of the company's expectations of a low-to-mid single-digit percentage increase. Fewer shoppers came in during the second half of the month, it said.
"Shareholders missed a golden opportunity to pepper management on why the stock is at the levels that it is," said Wall Street Strategies analyst Brian Sozzi.
Target shares plunged 21.7 percent from the beginning of 2011 through Tuesday. Shares of
Wal-Mart
Stores Inc fell just 10 cents, or 0.2 percent, over the same period, even though the company has not posted an increase in same-store sales at U.S. Walmart stores in two years.
Target's board declared a quarterly dividend of 30 cents per share, payable on Sept. 10 to shareholders of record as of Aug. 18. Target had paid a dividend of 25 cents per share during the previous four quarters.
The shares of Minneapolis-based Target were down 0.4 percent at $46.85 in afternoon trading after falling as low as $46.53, its nadir since December 2009, earlier in the session.
(Reporting by Jessica Wohl; editing by Andre Grenon and Gerald E, McCormick)
© Thomson Reuters 2022 All rights reserved.