Target store near Wal-Mart HQ gets top-level "spies"
April 21 - When the guy who runs the rival store up the road drops in for a visit, a lot of "shop talk" can be expected -- especially if that guy is Wal-Mart Chief Executive Mike Duke and you are running the only Target store for miles around.

For Chuck Simmons, that visit could happen at any time.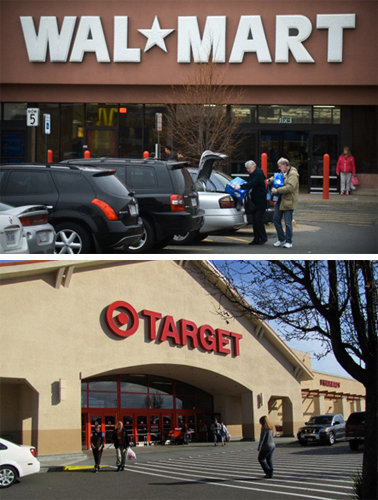 Wal-Mart store in Virginia (above) and Target store in California (below)
The Target Corp store he runs in Rogers, Arkansas, is just about 5 miles as the crow flies from Wal-Mart Stores Inc's head office.
Simmons spent two decades in retail, including time at Wal-Mart while attending college, before uprooting his family from Texas to open the Target store on Wal-Mart's home turf in March 2009.
"I knew exactly what I was getting into when we moved up here," Simmons said recently as he walked around the store in Target's signature red shirt and khaki pants.
The store's location gives everyone from Wal-Mart President and CEO Mike Duke to thousands of Wal-Mart employees -- or "associates" -- easy access to scope out the competition.
It is also a constant display of how Target is doing for companies from Coca-Cola Co to Walt Disney Co that have offices in the area because of the business they conduct with the world's largest retailer over in Bentonville.
One day while organizing the seasonal back-to-school area, Simmons turned around to see if a shopper, or "guest" in Target's lexicon, needed some help.
That guest was Wal-Mart CEO Duke. In late December, Simmons saw him again, this time checking out the seasonal candy area.
Simmons said he and Duke have walked around the store, and called him a "fantastic guy."
The competition in the area is fierce, especially in electronics. A Best Buy (BBY.N) is just steps away.
At 4 a.m. on the Friday after Thanksgiving some Wal-Mart senior vice presidents of electronics visited the Target, and Wal-Mart buyers also come through to check things out, said Simmons, who in Target parlance is "store team leader".
Wal-Mart is checking on competitors such as Target more often these days as it promotes its guarantee to meet other stores' advertised prices.
Of course, Simmons and his team also visit Wal-Mart stores to scope out the competition. He says his store tries to stay within 1 percent to 2 percent of Wal-Mart's prices.
That's an essential strategy here as thousands of potential patrons get even lower prices at Wal-Mart stores with their 10 percent employee discount.

THE WAL-MART CONNECTION

The Rogers store is one of nine Target stores in Wal-Mart's home state, where Wal-Mart has 97 stores. Wal-Mart and Target each have 74 stores in Target's home state of Minnesota.
Simmons, who lives in Bentonville, said he has not felt a bitter rivalry. "It hasn't been an adversarial relationship at all," Simmons said. "The community has been very responsive."
A Wal-Mart employee shopping at the Target one night recently said she visits her rival for apparel and home goods.
While he would not divulge details, Simmons said he has been pleased with sales growth in Rogers. The store, he said, has some of the strongest apparel sales he has ever seen, with patrons even asking when new collections will be available.
Apparel is one area where Wal-Mart has struggled against Target, whose founders first ran department stores. The chain has long attracted shoppers with chic designs.
Wal-Mart, which failed to lure many U.S. shoppers with trendy clothing, is now more focused on basics such as T-shirts and jeans.
Wal-Mart, though, is well ahead of Target in areas such as food. While packaged foods sell well at Target, Simmons is hankering to add fresh food to his store to better compete with Wal-Mart's big grocery sections.
And he still hasn't figured out how to get Duke to buy anything. While the Wal-Mart CEO has checked out Target's Archer Farms nuts and other goods, Simmons said he has not seen Wal-Mart executives buy anything when they visit.
Some, however, do stop by the Starbucks Corp kiosk on their way out.
"It's kind of a neutral purchase," Simmons said.

(Reporting by Jessica Wohl; Editing by Ted Kerr)
© Thomson Reuters 2021 All rights reserved.