Target to add grocery to more than half of stores
MINNEAPOLIS, Sept 24 (Reuters) - Target Corp (TGT.N) is accelerating its push into selling groceries, adding sections for fresh food to more than half of its roughly 1,500 discount U.S. stores by the end of 2011.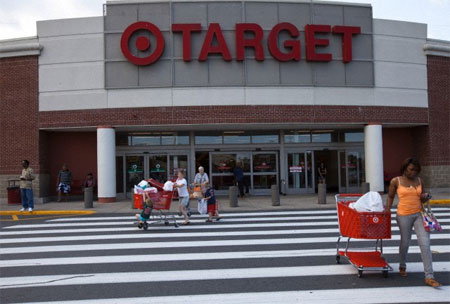 Target at South Bay Shopping Center in Dorchester, MA on August 19, 2010. Photo : Corbis
The second-largest discount retailer after
Wal-Mart
Stores Inc (WMT.N) will have "P-fresh" grocery sections in about 850 stores at the end of next year, CFO Douglas Scovanner said at a meeting with reporters in Minneapolis on Friday.
The company also said it plans to open its first small-format urban store in 2012 in Seattle, with other locations being considered from New York to Miami, Boston and Chicago.
Target expects P-fresh to add 1 to 2 percentage points to 2011 same-store sales, Scovanner added. Shares in the company rose more than 2 percent.
"It's low risk because it establishes a food department, which drives repeat visits, and because it doesn't cost very much capital to build them," Wall Street Strategies analyst Brian Sozzi said.
"It's better to see Target spending their capital on driving stronger productivity from existing boxes than building new stores that are going to take a while to earn back the investment," he said.
The fresh food strategy is also one of the ways Target hopes to increase sales at stores open at least a year, or same-store sales, during the holiday shopping season.
Target's expansion of its grocery sections will allow it to add more fresh foods, but will also include more packaged foods.
Target expects to see 1 percentage point increase in same-store sales in the fourth quarter from P-fresh and an additional 1 percent from the national roll-out of a 5 percent discount program, Scovanner said.
That comes at a time when consumers are still being conservative about spending amid high unemployment. As a result, Target is planning conservatively for the holiday season, and will have a better selection of items at all price points this year, said Kathryn Tesija, executive vice president for merchandising.
DIRECT ATTACK
The P-fresh strategy is a direct attack on Wal-Mart, which sells more groceries than any other U.S. retailer and gets more than half of its U.S. revenue from them. It also positions Target as a rival to supermarket chains like Kroger Co (KR.N), Supervalu Inc (SVU.N) and Safeway Inc (SWY.N).
Target previously said it would add grocery sections to 350 stores in 2010. On Friday, it expanded on that by announcing plans to outfit an additional 400 stores in 2011.
Scovanner said Target is seeing food shoppers also buy things in other sections of its stores -- which sell everything from clothing to exercise equipment and furniture.
But selling groceries has its risks. It is a competitive and low-margin business, and general merchandise retailers often have to cut back on what they offer in other parts of the store to make space for the new grocery items.
Target in August signaled it may continue to see better same-store sales growth than Wal-Mart, helped by its bigger selection of fresh foods and exclusive fashion brands that carry higher margins.
The new Seattle store speaks to efforts by both Target and Wal-Mart to reach customers in densely populated cities where their larger stores will not fit. The smaller stores will be 60,000 to 100,000 square feet, compared with 125,000 to 180,000 square feet for a typical Target.
"We don't think investors have any expectations of success built in at this point," said Edward Jones analyst Matt Arnold. "If one or both chains begins to gain traction with urban store formats, it will be more of an upside surprise."
The company said it is looking at Canada and Puerto Rico as areas for its first stores outside the United States and could open stores there in the middle of the decade.
The retailer also said it would begin selling
Apple
Inc's (AAPL.O) popular iPad tablet computer on Oct. 3. Target will sell six models, starting at $499, a spokeswoman said.
Apple's tablets are also available from Apple stand-alone stores and Best Buy Co (BBY.N).
(Additional reporting by Lisa Baertlein in Los Angeles. Editing by Gerald E McCormick, Robert MacMillan, Gary Hill)
© Thomson Reuters 2023 All rights reserved.