Tiffany holiday sales weaken; Zale, Signet rise
Tiffany & Co sales over the holiday season weakened markedly in the United States and Europe, prompting the upscale jeweler to lower its full-year profit forecast and sending its shares down more than 10 percent in early trading.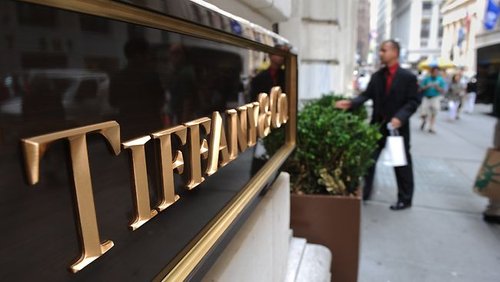 The Tiffany & Company store on Wall Street in New York Source: AFP

Layoffs and lower bonuses on Wall Street and in London's City as well as a growing debt crisis in the euro zone have cast a pall on high-end jewelry spending in two of Tiffany's most important markets.
At the same time, jewelers like Zale Corp and
Signet
Jewelers Ltd that cater more to Main Street shoppers -- which account for about 30 percent of annual jewelry sales in the United States -- fared better during the Christmas period.
Sales at Tiffany's famed flagship on Manhattan's Fifth Avenue, which accounts for about 8 percent of revenue, were down 1 percent in November and December. The decline would have been worse if not for international tourists, Tiffany said.
In Europe, sales at stores open at least a year fell 4 percent, hurt in particular by a weak British market, which is also reliant on banker bonuses.
For November and December, Tiffany's net worldwide sales rose 7 percent to $952 million, a slower pace of growth than last year's 11 percent clip. Company wide, same-store sales were up 4 percent for the period.
"It's faster than I expected," Morningstar analyst Paul Swinand said of the decline in the rate of Tiffany's growth.
WALL STREET, EUROPE WEIGH

Citing the softer sales, Tiffany said it expects to earn $3.60 to $3.65 per share for the year ending January 31, down from its earlier forecast of $3.70 to $3.80. It was the first time Tiffany cut a profit forecast since 2009, Collins Stewart said in a research note.
Tiffany got some relief in Asia, where sales excluding Japan rose 19 percent to $165 million.
In October, the New York state comptroller said Wall Street bonuses were likely to drop for a second straight year in 2011 and that there would be layoffs in the financial industry in 2012, prompting speculation that sales of luxury goods would suffer.
Tiffany CEO
Michael Kowalski
pointed in a statement to "restrained spending" on jewelry in the United States and Europe during the holidays.
But other luxury retailers such as
Saks
Inc and
Nordstrom
Inc reported strong holiday sales. High-end shoppers typically pull back on expensive jewelry before they start skimping on their wardrobes.
At Signet, holiday sales at its U.S. stores open at least a year rose 9.2 percent, with gains of about 10 percent at its Kay Jewelers and its higher-end Jared chain, its two largest.
Signet Jewelers said it expects to earn between $3.67 and $3.72 per share for the fiscal year ending January 31. That is below analysts' average forecast of $3.73, according to Thomson Reuters I/B/E/S. It said it expects gross profit margin to improve in fiscal 2012.
Signet, which gets 80 percent of its sales in the United States, said same-store sales rose 1.8 percent at its British chains over the holidays.
Zale Corp continued to see improvement, with same-store sales up 9 percent in the United States at its Zales and Gordon's chains. Companywide, they rose 5.9 percent.
Tiffany shares were down 10.4 percent to $59.97 in morning trading, while Signet shares were down 6.8 percent to $43.80. Tiffany shares have fallen 28 percent since hitting a yearly high in early July. Zale shares were down 7 percent.
(Reporting By Phil Wahba; Editing by John Wallace and Mark Porter)
© Thomson Reuters 2023 All rights reserved.