Tiffany quarterly profit down; keeps outlook
NEW YORK (Reuters) - Upscale jeweler Tiffany & Co (TIF.N) posted a 62 percent drop in quarterly profit on Friday 29 May, as shoppers stayed away from jewelry in the recession.
Net profit fell to $24.3 million, or 20 cents per share, in the first quarter ended on April 30 from $64.4 million, or 50 cents per share, a year earlier.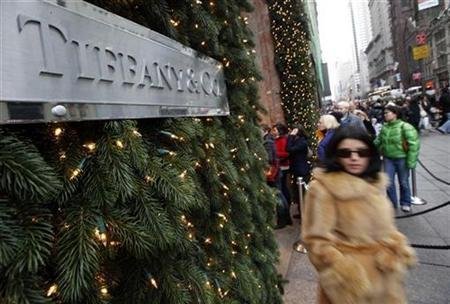 Sales dropped 22 percent to $523.1 million. On a constant currency basis, sales fell 18 percent.
Saying sales have declined less sharply so far in the second quarter, Tiffany stood by its full-year forecast for per-share earnings of $1.50 to $1.60 from continuing operations.
Earlier in May, Tiffany said it had bought bankrupt handbag maker Lambertson Truex in a bid to expand its array of leather goods.
(Reporting by Aarthi Sivaraman; Editing by Lisa Von Ahn)
© Thomson Reuters 2023 All rights reserved.