Titan first quarter net up on higher sales, beats forecast
MUMBAI, July 28 (Reuters) - Titan Industries Ltd (TITN.BO) on Monday 27 July reported a 41 percent rise in its first-quarter net profit, helped by higher watch sales, beating expectations.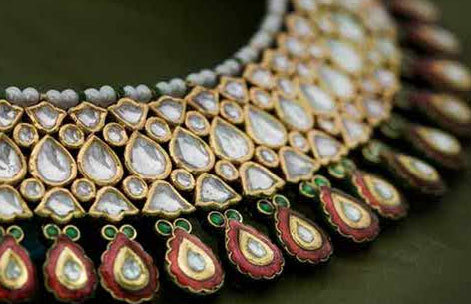 Tanishq Punjabi Wedding collection - Photo: www.tanishq.co.in
The watch and jewellery retailer reported April-June net profit of 460.4 million rupees, on net sales of 8.82 billion rupees, compared with 330 million rupees forecast by a Reuters poll of brokerages.
Revenues from its watch segment rose 21.3 percent to 2.08 billion rupees in the quarter, while the jewellery segment grew a marginal 3.2 percent to 6.35 billion rupees, as gold prices remained high in the quarter, Titan said in a statement.
Titan Industries sells watches under a range of brands across price points, and operates two jewellery retail chains -- Tanishq and Goldplus -- as well as an eyewear chain Titan Eye+.
The company sells watches under its premium brand Titan and economy brand Sonata.
Sales from Titan's 'other products' category which include eyewear, precision engineering, machine building and clocks rose to 391.4 million rupees from 235 million rupees.
The firm opened 18 retail stores across categories in the quarter, Titan added.
Shares of Titan ended up 1.99 percent at 1,340.05 rupees in the Mumbai market.
(Reporting by Aniruddha Basu; Editing by Ramya Venugopal)
© Thomson Reuters 2021 All rights reserved.