Tod's sales grow in 2011
It has been a good year for Tod's. Notwithstanding the difficult surrounding economic context, the Italian group posted a sales increase of 13.7%, for a total turnover of nearly 894 million euros (versus 787 million in 2010). This strong performance was first enjoyed by its flagship brand, Tod's, which represents more than half of its sales in 2011 and closed with an increase of nearly 20% (487 million euros).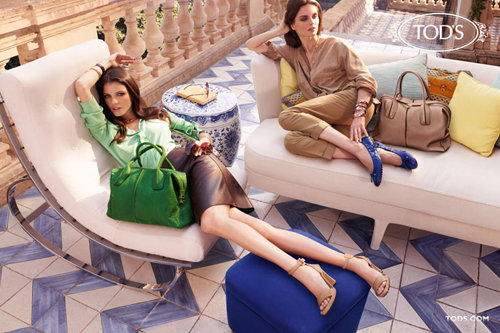 Tod's Spring-Summer 2012 campaign.
The group's second essential brand,
Hogan
, accounting for a third of its activity, has experienced a smaller growth of 4.7% (or 281 million euros), having been adversely affected by the Italian economy, according to the group. The Italian economy may also explain the negative result this time around for
Fay
, -2% (88 million). Finally the last brand for Tod's,
Roger Vivier
, made ​big leaps in 2011, increasing its turnover by almost 68%, to 36.5 million euros. While this brand still has a way to go, the group saw the confirmation of its potential.
From a geographical standpoint, the group has benefitted greatly from its Asian expansion. The area driven by mainland China and Hong Kong saw its sales grow by 38% and became the second largest market, accounting for 22% of the activity, behind Italy which still represents just over half (5% in 2011). Europe, excluding Italy, went down to third place but enjoyed a good performance of 11.2% (thanks to Germany, Britain and France), while North America also closed the year in the two digits with 17%.

China and Hong Kong were able to move forward with a plan of backed store openings. Forty branches have opened for a total of 176 locations worldwide. Its subsidiaries also grew on a global scale and now generate 53% of sales, versus 51% in 2010.

The complete results and the profits of each group will be known friend after their confirmation on March 13.
Copyright © 2023 FashionNetwork.com All rights reserved.