Tommy Hilfiger's Champs-Elysees flagship opens
Friday morning, 5th November, one day behind schedule, Tommy Hilfiger opens to the public on Champs-Elysees. Although the official opening with the founder himself is planned for November 18th, the French flagship doesn't fail to impress.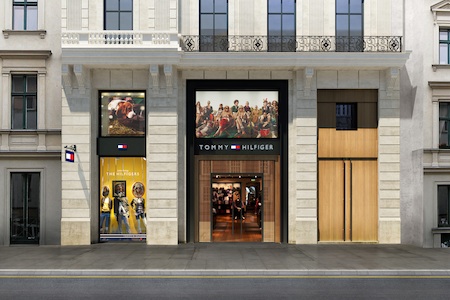 The New York looking exterior on the Champs-Elysees flagship
Wholly owned by Phillips-Van Heusen Corporation, the opening of its largest anchor store on 65 Avenue des Champs Elysees in Paris covers 835 m2. "The Champs Elysees store serves as a true flagship for our brand in France and further anchors our significant retail presence in Europe," said
Fred Gehring
, Chief Executive Officer of the Tommy Hilfiger Group.
The store aims to bring an array of colour, texture, humour and fun with furniture and visual elements. The concept will pay tribute to the brand's heritage by incorporating an eclectic mix of vintage furniture and props from the USA, as well as those from France. The ground floor is dedicated to sportswear, tailoring and accessories for men, with French oak flooring and large Persian carpets. One of the vaults in the ceiling has an Italian 1950s chandelier. A glass staircase and wood panelling is topped off by a coloured glass chandelier. Visitors, the majority tourists, can also take a glass elevator to go upstairs.
Up to this level, the Hilfiger Collection is found; footwear and accessories for women and children. The industrial-looking polished concrete floor reflects the vintage white and walnut elements in the space.
Finally, the basement is dedicated to the brand's "culture"; rock and roll-esk items from the New York brand is complemented with a DJ corner. The Parisian space was designed by an internal design team from The Tommy Hilfiger Group.
Copyright © 2023 FashionNetwork.com All rights reserved.