Topshop's Green says he'd listen to any BHS suitors
LONDON, England - British billionaire Philip Green, owner of the Arcadia stores group, would listen to what any putative bidder for his loss-making BHS department stores chain has to say, he said, while confirming no talks are underway.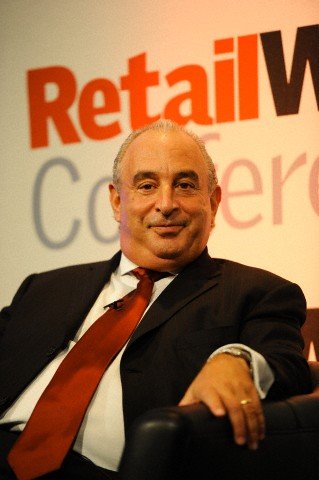 Sir Philip Green | Source: Corbis
"If something turned up that made some sense we'd have a look at it. Why would we not? We're in business," Green told Reuters in an interview at his flagship Topshop store on London's Oxford Street.
"We're not talking to anybody," he added.
According to the Mail on Sunday newspaper, South African billionaire Christo Wiese is interested in UK retail acquisitions, including a possible bid for BHS. Reuters could not contact Wiese for comment.
Green bought BHS for 200 million pounds ($320 million) in 2000. It trades from 184 stores in the UK and Ireland as well as having 87 franchise outlets.
The tycoon subsequently acquired Arcadia, owner of the Topshop, Topman, Burton, Dorothy Perkins, Miss Selfridge, Wallis and Evans chains, for 850 million pounds in 2002. He has twice tried and failed to buy Marks & Spencer Plc, Britain's biggest clothing retailer.
Green, whose family ranked 16th on the 2013 Sunday Times UK rich list with an estimated fortune of 3.9 billion pounds, said finance would not be an issue if he wanted to pursue further acquisitions.
"On our track record of buy, pay back, be reliable, I'd be disappointed if there was something else we wanted to do and we couldn't go and do it," he said.
Green, who was knighted in 2006 and in 2010 published a state-commissioned report on efficiency savings in government, was speaking ahead of the release of his firm's annual results on Thursday.
These showed a 0.5 percent rise in underlying pretax profit to 167.8 million pounds for the year ended August 31, on sales up 2.2 percent to 2.74 billion.
"It's a tough market," he said. "If all our energy and effort was on one brand, we'd probably outrun the competition. When you're running seven brands you'll never going to get them all right, all at the same time, it's harder."
But he said Arcadia was well placed compared with rivals.
"We generated 325 million pounds (of cash in 2012-13), we've got no debt, a nice clean balance sheet. I think we're in a lot better shape than a lot of other people."
Arcadia said sales at stores open more than a year were down 3.7 percent in the first 10 weeks of the 2013-14 year.
Green lamented recent unusual weather patterns.
"We had no seasonal weather in the spring and we've got no seasonal weather in the autumn - you need a bit of help," he said. ($1 = 0.6254 British pounds)
© Thomson Reuters 2023 All rights reserved.