Under Armour sponsors Tottenham Hotspur
The American sportswear firm Under Armour has announced that it will supply the UK football (soccer) team Tottenham Hotspur for the next 5 seasons, effective in 2012.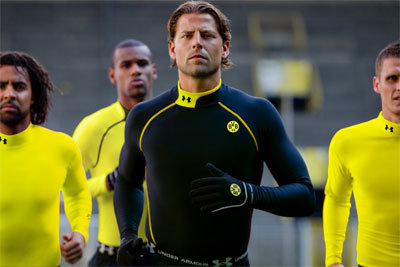 Under Armour for Dortmund - Photo: DR
This is Under Armour's first deal with a premier league team, although the brand already sponsors Germany's Hanover sports club in Europe as well as the successful Ballspielverein Borussia (BVB) Dortmund. "This is a very important and exciting moment for Under Armour. Associating our brand with an elite team such as Tottenham Hotspur shows our commitment to developing our brand in Europe and the UK", explains Kevin Plank, founder and president of the brand.
As a side note, several football players are already under contract with the brand such as Bobby Zamora (Fulha), Cedric Hengebart (Auxerre) and Nicolas Piestan (Schalke 04). Although the brand was bred and born in American colleges and their football (soccer) teams, Under Armour also plays ball in Rugby.
Copyright © 2023 FashionNetwork.com All rights reserved.