Uniqlo creates a buzz around New York flagship store openings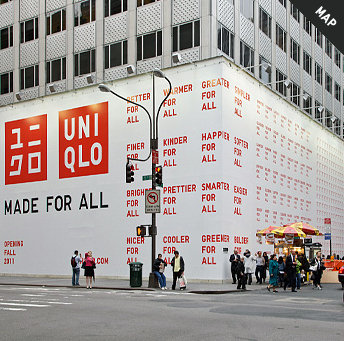 Uniqlo's 5th Avenue flagship, opening this early Fall
Always celebrating store launches in big style,
Uniqlo
somehow doubled its efforts when it came to preparing for the upcoming arrival of its two New York flagship stores.
Fast Retailing
's brand has created a special online page featuring an interactive
portrait gallery
of unknown as well as famous New Yorkers, seen talking about fashion and their connection with the Big Apple.
One of the links on the website then takes you to a
different page
, which displays a countdown to the launch of Uniqlo's 1070 m² flagship store on 5th Avenue this early Autumn, to be joined by another one opening on 34th Street in late Fall. The website also shows several videos filmed in key places in New York in order to replicate the atmosphere of this expanding city.
One can also find images of four Uniqlo pop-up stores that were set up in New York for the summer. These points of sale will only exist for a few months in order to allow New Yorkers to discover the brand's world prior to the flagship openings.
For the fiscal year ending in August, Fast Retailing has projected sales of 836 billion yens (7.2 billion euros), up 2.6%. The group is also getting ready to open another Uniqlo boutique this Autumn, this time located in the Paris district of La Défense and covering a total area of 200 m².
Copyright © 2022 FashionNetwork.com All rights reserved.