Uniqlo's Japan May sales dip 1.6 pct y/y
Fast Retailing said on Thursday sales at Japanese outlets of its Uniqlo casual-clothing chain fell 1.6 percent in May from a year earlier as cooler spring weather outweighed the benefits of anniversary and holiday sales campaigns.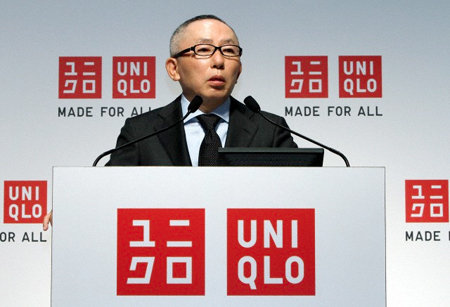 Chairman, president and chief executive officer of Fast Retailing Co. (UNIQLO) Tadashi Yanai speaks during a news conference in Tokyo, Feb. 17, 2011 (Photo: Corbis)
Fast Retailing has projected a 3 percent year-on-year increase in same-store sales at its Japan Uniqlo stores for the second half of its business year that ends in August, after sales fell 9.9 percent in the first half.
Uniqlo's sales stumbled in the 2010 calendar year as an improving economy prodded some shoppers who had flocked to the casual clothing retailer in search of bargains back to pricier shops and department stores.
Earlier this week the apparel chain said it expects a sales boost this summer from shoppers seeking lighter garments, as people put air conditioners on low to conserve electricity in support of efforts to cope with loss of generating capacity resulting from the March 11 earthquake and tsunami.
Prior to Thursday's announcement, shares of Fast Retailing settled 0.1 percent lower at 12,140 yen, against a 1.7 percent decline in the benchmark Nikkei average.
(Reporting by James Topham; Editing by Michael Watson)
© Thomson Reuters 2022 All rights reserved.