Uniqlo sees boost from light clothing in power-starved Japan
May 31 - Fast Retailing Co Japan's leading apparel chain, said it expected a sales boost from shoppers seeking lighter clothing this summer as temperatures rise and half the nation turns its air conditioners on low to conserve power.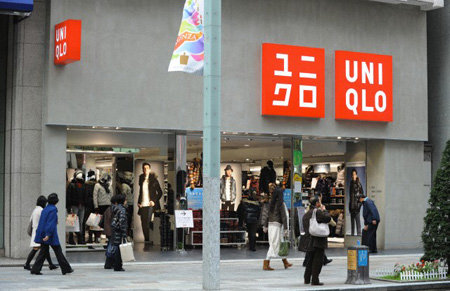 Consumers walk past the Uniqlo Co. flagship clothing store in the upscale Ginza district of Tokyo (Photo: Corbsi)
Government officials have asked businesses and households in greater Tokyo, which accounts for about 40 percent of Japan's economic activity, and in northeast Japan to cut electricity use by as much as 15 percent during the peak summer months.
The region's power grid is at risk after Japan's March 11 earthquake and tsunami triggered a crisis at the Fukushima Daiichi nuclear power plant and forced others to go offline, squeezing generating capacity.
"(The power shortage) is a huge opportunity for the apparel industry. People are changing the way they dress not just at work but at home as well," Fast Retailing Group Executive
Naoki
Otama told a news conference in Tokyo.
"Summer wear sales usually start rising in June, but this year they have been outpacing spring wear since the end of April," he said.
Japan's top retailer Seven & I Holdings was, however, less optimistic about a summer sales boost, saying it would have to look to special promotions to obtain the same level of consumption at its convenience stores as last year, when a heatwave caused sales to jump.
The hottest summer in over a century helped lift demand for cold beverages and ice cream, which along with cost cuts, boosted profits at the company's convenience store chain in the June-August quarter by 15 percent year-on-year.
SPENDING PINCH
In April, cash earnings by Japanese workers fell 1.4 percent from a year earlier, the biggest drop since 2009, while household spending slipped 3 percent.
That contraction is forcing retailers to seek a bigger share of what's left to keep profits growing. Shoppers have also become more frugal and energy-conscious, hurting high-end department stores, while recession-squeezed stores have had to adapt products and advertising.
Fast Retailing, which has historically benefited from economic downturns, on Tuesday unveiled a line of chinos, mesh polo shirts, linen jackets and even knee-length shorts that it billed as "cool, yet professional" office dress.
The maker of popular heat-trapping underwear for winter is hoping the new line will avoid the fate of the short-sleeved suits that flopped during the oil crisis of the 1970s.
The government is also trying to encourage Japan's conservatively dressed legions of office workers to exchange their suits and ties for polo shirts and jeans during the summer months in its campaign to cut air conditioning use.
Fast Retailing said earlier this month that its same-store sales in Japan rose by 4.6 percent in April from a year ago on steady sales of summer clothes.
In the six months to August, Fast Retailing expects same-store sales to rise 3 percent from a year ago.
Last month, Seven & I forecast a 1.9 percent gain in operating profit to 248 billion yen for the business year that began in March, amid expectations demand for basic goods would limit the impact of a post-quake decline in overall consumer spending.
In a survey of Japanese consumers taken last month by Credit Suisse, over 70 percent of respondents said they were not considering buying any special products or services to cope with this summer's power conservation measures.
(Reporting by Tim Kelly, Mayumi Negishi and James Topham; Editing by Edmund Klamann and Edwina Gibbs)
© Thomson Reuters 2022 All rights reserved.