Uniqlo signs Djokovic as looks to expand abroad
PARIS - Fast Retailing's Uniqlo has signed tennis star Novak Djokovic to a five-year contract in an attempt to increase its brand appeal among European and U.S.-based shoppers as the company looks to expand outside its home market of Japan.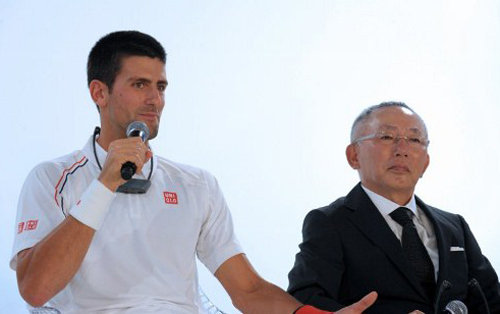 Novak Djokovic wearing his first Uniqlo apparel, next to Tadashi Yanai, CEO of Fast Retailing / Photo: AFP/Eric Piermont
The deal, for an undisclosed sum, will require the top-ranked Serb to wear Uniqlo clothing both on the court and off.
He will also be involved in the creation and design of the clothing, he said at a news conference in Paris on Wednesday, dressed in tennis whites with fine red piping.
Asked if he was trying to boost his image, Djokovic, who recently defeated Roger Federer but lost out to top rival Rafael Nadal on clay in Rome, joked: "I don't want to compete with (Federer) in terms of elegance, not Nadal either."
Uniqlo, owned by Asia's top apparel retailer, is aggressively expanding in the United States and Europe, planning to open between 200 and 300 new stores a year, Founder and Chief Executive Tadashi Yanai told Reuters in an interview.
He added that Uniqlo, which owns France's Princesse Tam.Tam and Comptoir des Cotonniers chains, did have some interest in purchasing small companies. Previously, Yanai had stated that the company was primarily interested in only large mergers.
"We would be interested both in Europe and the United States," Yanai told Reuters. "Small companies as well as others."
He added that low commercial rents in the U.S. and Europe were helping Uniqlo in its expansion plans.
"For new companies that want to enter the market, the current economic climate is quite favourable," he said.
He told the news conference that Uniqlo was struggling with some of its stores in the UK and would be shutting underperforming shops, while opening new ones.
© Thomson Reuters 2023 All rights reserved.