Valentino sees brand change hands for third time
By Marie-Louise Gumuchian
MILAN (Reuters) - Valentino Garavani, whose luxurious dresses have adorned the Hollywood set and European royalty for over 40 years, looks set to see his brand change hands for the third time in a decade.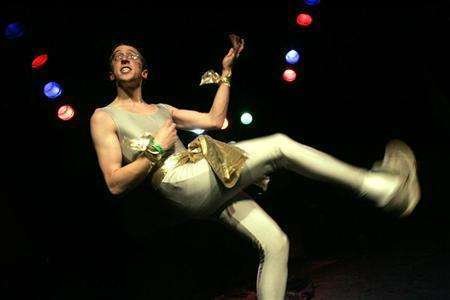 The 75-year-old Italian designer, who built one of the world's best-known fashion houses, will have private equity firm Permira as the majority shareholder of Valentino Fashion Group after it secured over 52 percent of it.
Permira will launch an offer for the rest of the company, which is valued at about 2.6 billion euros (1.8 billion pounds).
Valentino, with skin always tanned and never a hair out of place, opened his atelier in the 1960s.
His trademark red evening gowns and sleek black and white outfits are aimed at the glamorous wealthy who attend chic luncheons and gala dinners.
"Who should I dress?" he said in a 2005 interview with The New Yorker magazine. "Girls in strip malls?"
He told one newspaper that actresses like Cameron Diaz looked like bag ladies compared with the glamorous stars of the past because they looked "unkempt in jogging trousers".
Although some have criticised his conservatism, he remains a top choice for red carpet occasions, with Julia Roberts and Cate Blanchett wearing Valentino when they won their Oscars.
Jacqueline Kennedy had Valentino design her dress when she married Greek shipping tycoon Aristotle Onassis.
His gowns can fetch tens of thousands of dollars, while wedding dresses can go even higher.
With butlers and Picasso paintings, his luxurious lifestyle came to mirror that of his clients.
In 1998, he sold the fashion house to holding company HdP, which later sold the then loss-making group to the Marzotto family, one of Italy's oldest fashion and textile groups.
"Since I have no heirs that are involved in fashion, it gives me great satisfaction to know ... there is someone who will keep the brand alive after I'm gone," he said at the time.
"I CAN NEVER STOP"
Valentino became the first of his country's most famous designers to see his name quoted on the stock exchange.
Valentino Fashion Group made its debut on the Milan bourse in 2005 after the Marzottos decided to separate its profitable high-end labels from its textile business. The group also includes brands Hugo Boss and Marlboro Classics.
Other Italian designers have considered listing their stock. Prada is thinking about it, while Versace will not decide until late 2008 at the earliest.
Giorgio Armani, head of an empire that includes womenswear, jewellery, perfume and home furnishings, has kept investors guessing by mentioning talks with potential suitors and the possibility of a public offer.
Born in 1932 in Voghera in northern Italy, Valentino left his home country as a teenager to study fashion in Paris.
He opened a fashion house in Rome in 1959 with the backing of his father and an associate, who later pulled out because the designer was spending so much money.
His business partner Giancarlo Giammetti, whom he met in 1960, recalled how they had to fight against bankruptcy. The two started a new company and Valentino's breakthrough came at a 1962 show in Florence.
His return to Rome coincided with the start of an Italian film boom immortalised by "La Dolce Vita" when the comings and goings of actors and starlets were chronicled for the tabloids by motorcycle-riding paparazzi.
Valentino's glamorous clothes perfectly suited the mood and were snapped up by actresses such as Sophia Loren.
Valentino and Giammetti pioneered the concept of ready-to-wear in the 1970s, when they opened their first boutiques and he became the first Italian designer to license his name abroad for the production of accessories.
He has received awards for his work, including the fashion world's equivalent to an Oscar and the French Legion of Honour.
The Wall Street Journal recently reported on rumours that Valentino, one of the oldest designers on the fashion scene, was soon to retire.
But speaking to Reuters after a show last year, he showed no signs of wanting to hang up his scissors.
"I do my collections with lots of joy," he said. "And I can never stop, because for me, doing collections and drawings and new collections is a big, big pleasure."
© Thomson Reuters 2023 All rights reserved.