Van de Velde sees slow autumn sales, higher costs
Feb 18 - Belgian luxury lingerie retailer Van de Velde forecast growth in the first half of 2011, but slow sales of its autumn collection and increased costs for production and marketing.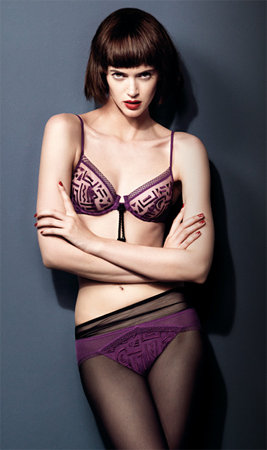 Lingerie brand Andres Sarda, owned by Van de Velde
Van de Velde said its spring collection had sold well to retailers, but initial sales of its 2011 autumn range were more difficult due to slower in-store sales to consumers in late 2010, meaning stores still had last year's stock to shift.
The company, which exports across the European Union, to the United States and Southeast Asia, said it was still too early to forecast turnover for the second half of 2011.
Van de Velde also said it expected a slightly lower gross margin because of increased costs for production in China and new marketing drives.
The company reported an 18.7 percent rise in recurring core profit to 52.3 million euros ($71 million) in 2010 as it cut costs and sold higher-margin products in improved worldwide markets.
That compared with the average Thomson Reuters I/B/E/S broker estimate of 51.4 million euros.
It increased its proposed gross dividend to 2.15 euros from 1.65 euros.
(Reporting by Philip Blenkinsop; Editing by Will Waterman)
© Thomson Reuters 2023 All rights reserved.