Van de Velde sees strong growth in 2010
The Belgium Lingerie Group, owner of brands such as Marie Jo, Andres Sarda and Prima Donna, has performed well in fiscal year 2010. It registered a 7.3% growth, which earned the group a total turnover of 150.4 million euros, and that is without including the results from its recently acquired (May 2010) American lingerie store chain Intimacy. If we add those, the company's turnover goes up to 166.3 million euros, thus showing an 18.7% growth. Van de Velde's operating profit in 2010 reached 52.3 million euros with Intimacy (or 51.7 without), against 44.2 million in 2009. Net income rose by 50.74%, jumping from 26.6 million euros in 2009 to 40 million with Intimacy in 2010 (or 36.3 without).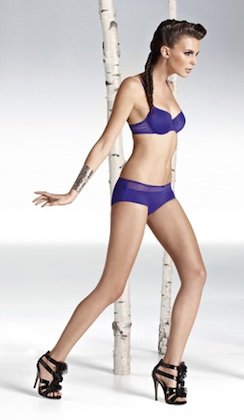 Van de Velde; Model Marie Jo
In 2011, the Lingerie group is expecting to see further growth during the course of its first semester. However, it also revealed that it had some problems with its Autumn 2011 collection "because of difficulties experienced by stores in selling out old stock at the end of 2010". The group is now set on expanding Intimacy and developing its brands Oreia in Germany and LinCHérie in the Netherlands. Van de Velde is expecting a slight set back on its 2011 gross margin due to a price rise in China, as well as an increase in expenses in general.
Copyright © 2023 FashionNetwork.com All rights reserved.