Versace to design Lamborghini bags, interiors
MILAN (Reuters) - Versace has agreed to design the interior of a limited edition Lamborghini car and its accompanying accessories like gloves and bags in the latest collaboration between the two luxury brands.
The Italian fashion house will design the interior of the Murcielago LP640 Roadster, a joint statement said on Monday at Milan's fashion week for men.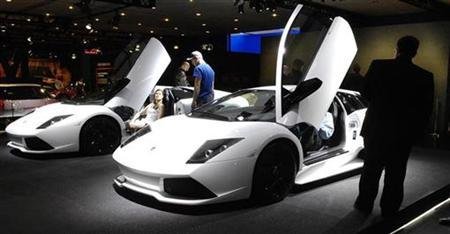 The cars, whose interiors will be fitted with black and white leather, will be made on demand so the number to be produced has yet to be determined, a Lamborghini spokeswoman said.
The accessories, which also include trolleys and suitcases, will go on sale in Versace and Lamborghini stores by November.
Versace began collaborating with Lamborghini about two years ago. It designed the interior of a limited edition Murcielago coupe and later worked on another Lamborghini car that went up for auction at a charity event.
Working with Versace is part of the luxury sports car maker's strategy to raise its profile and make money through the franchising of its brand.
Although it is based in Sant'Agata Bolognese, Lamborghini is owned by Audi, a unit of Volkswagen of Germany.
(Reporting by Gilles Castonguay)
© Thomson Reuters 2023 All rights reserved.