VF Corp "party of interest" in Eddie Bauer bidding
SAN FRANCISCO, July 14 (Reuters) - Apparel maker VF Corp (VFC.N) is a "party of interest" in the auction for the assets of bankrupt retailer Eddie Bauer Holdings Inc (EBHIQ.PK), according to a court document.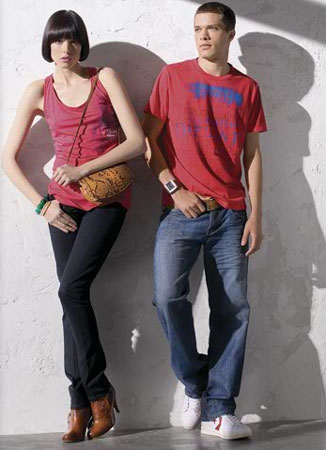 Lee, a VF Corp brand
Eddie Bauer, an outdoor apparel chain that filed for Chapter 11 protection last month, has about 370 stores in North America and about 10,000 employees worldwide.
VF, an apparel powerhouse whose outdoor brands include such names as North Face, Reef and Kipling, has asked the U.S. Bankruptcy Court in Delaware to send it all notices in the case, saying it is a "party in interest," according to court documents filed on Monday 13 July.
A VF spokeswoman declined to comment on whether the company is interested in bidding for the assets.
Others that have also requested all notices in the case include creditors such as suppliers, lenders and landlords, and investment firms such as Monarch Alternative Capital LP.
On Monday 13 July, Bloomberg reported that Iconix Brand Group Inc (ICON.O), which owns a host of fashion brands, and Golden Gate Capital, a private equity group, might also bid on the company, citing sources with knowledge of the proceedings.
An auction is scheduled for July 16.
Eddie Bauer said in June it would seek court approval to sell its assets to private equity firm CCMP Capital for $202 million.
CCMP is the "stalking horse" bidder for the bankruptcy auction. A stalking horse submits a starting bid to set a floor under other possible offers in exchange for certain protections that often include break-up fees.
VF's "party of interest" status does not necessarily mean the company plans to bid. A company may want to be kept apprised of an auction, especially if the bankrupt company owes money, or has the potential to be snatched up by a rival.
Still, VF has been on an acquisition streak in recent years.
Last month, VF Chief Executive Eric Wiseman told Reuters he was having many discussions over potential targets as the weak economy provided buying opportunities. He listed the outdoor sector as an area of interest.
Wiseman said then the group had the financial firepower to do "a reasonably large" deal, adding the company will have $600 million in cash and $1.3 billion in accessed funds by the end of the year.
The case is In re: Eddie Bauer Holdings Inc, U.S. Bankruptcy Court, District of Delaware, no. 09-12099.
(Reporting by Alexandria Sage in San Francisco and Phil Wahba and Martinne Geller in New York; Editing by David Gregorio)
© Thomson Reuters 2023 All rights reserved.