VF raises 2010 forecast, eyes M&A
By Phil Wahba
NEW YORK, April 30 (Reuters) - Clothing maker VF Corp (VFC.N) reported a better-than-expected quarterly profit, as lean inventories and strong sales of its outdoor and action sportswear brought gross profit margins to record levels.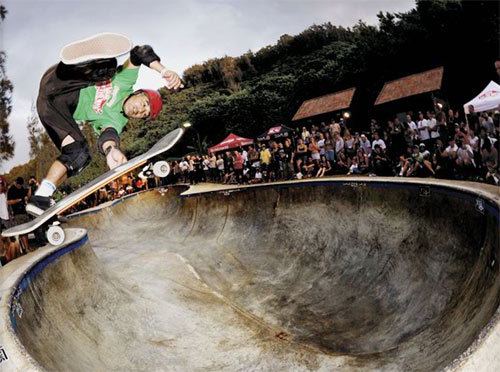 Vans, a VF Corp brand
The world's largest apparel company, home to more than 30 brands including
The North Face
and
Nautica
, also raised its full-year revenue and profit outlook above analysts' expectations.
Chief Executive Eric Wiseman said efforts to lower inventories, which help avoid deep discounts, had paid off.
Wiseman said VF's focus is on boosting revenues. He cited its outdoor clothing businesses and the Chinese market as "key growth engines." VF plans to increase advertising and is considering potential acquisition targets in outdoor wear.
The company has weathered the recession better than some due in part to its broad geographic footprint and mix of wholesale and retail businesses, which resulted from a series of acquisitions.
"There's a ton of diversity whether you are talking about brands, the channel or the geography," Edward Jones analyst Matt Arnold said.
In addition to selling its products through other retailers, VF operates hundreds of its own stores.
Net income was $163.5 million, or $1.46 per share, in the first quarter, up 62 percent from $100.9 million, or 91 cents per share, a year earlier, VF said.
Excluding one-time items, VF earned a quarterly profit of $1.44 per share, besting analysts' average forecast of $1.14 per shares on revenues of $1.74 billion, according to Thomson Reuters I/B/E/S.
Revenue rose 1.4 percent to $1.75 billion in the quarter ended March 31.
Arnold said VF shares have little room left to rise after their surge in recent months. Shares are up about 19 percent this year, and hit a yearly high of $88.94 earlier on Friday 30 April.
Shares were down 34 cents or .39 percent, to $86.78 in midday trade on the New York Stock Exchange.
THE GREAT OUTDOORS
Revenues of its North Face outdoor brand and Vans shoes, its top two brands, rose 9 percent and 20 percent respectively during the quarter, while companywide sales in the Americas were up 11 percent, outperforming an 8 percent rise elsewhere
"We're continuing to look at a variety of acquisitions, particularly in the outdoor and actions sports areas," Chief Financial Officer Robert Shearer said on a conference call.
The valuations of the potential targets, which he did not name, were too high at the moment, given strong results in retail and improved consumer spending.
VF plans to build on its momentum by increasing advertising spending by 20 percent this year, including its first television campaign later this year, Wiseman said.
VF has said it aims to reach $11 billion in revenue by 2012, with one-third of that coming from international markets. VF expects revenue growth in Asia to top 25 percent this year.
Wiseman said VF's plan to increase its China locations by 40 percent this year was on track.
VF's better-than-expected sales also got a boost from a 16 percent rise in its trendier brands such as John Varvatos.
VF expects 2010 revenues to rise by 3 percent to 4 percent, and full-year earnings per share to be $5.90, above the $5.76 forecast by Wall Street analysts.
Its prior forecast called for earnings per share of between $5.60 and $5.70, with revenue up by 2 percent to 3 percent.
Gross margin rates, or profits made over the cost of goods sold, rose 4.5 points to reach 46.7 percent. Part of that growth came from inventory management, but the company also benefited from lower product costs and increasing margins in its stores.
Its board of directors also declared a quarterly cash dividend of 60 cents payable on June 18. (Reporting by Phil Wahba; additional reporting by Martinne Geller; Editing by Derek Caney, Leslie Gevirtz)
© Thomson Reuters 2023 All rights reserved.