VF sees 2011 gross margins near 2010 levels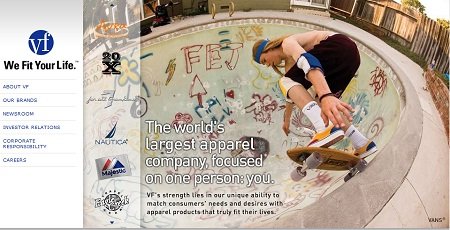 VFC.com
NEW YORK (Reuters) - VF Corp (VFC.N) said its gross margins in 2011 would be close to levels seen this year, and its stock closed lower, although the apparel maker raised its forecast for 2010 and posted higher-than-expected quarterly profit.
VF said it expects gross margins in 2011 to be near the record levels that it will achieve this year.
Executives for the company, whose brands include Lee, North Face and
Vans
, assured analysts that higher prices, in addition to a shift to higher-margin businesses such as outdoor wear, would offset cost increases.
But after a year in which management repeatedly trumpeted its achievement of record margins, the flat forecast may have contributed to the sell-off, said Edward Jones analyst Matt Arnold.
Investors, concerned that the company might not be able to meet its gross margin guidance for next year sold shares, said Sterne Agee and Leach analyst Ken Stumphauzer.
"People are a little concerned that they might have been aggressive in guiding gross margins next year," he said, adding that the company has an "incomplete picture" of costs such as wages in China and cotton prices.
"There's a lot of unknowns right now," he said.
VF Corp raised its full-year earnings forecast to $6.25 per share to $6.30 per share from its previous guidance of $6.10 per share. The new outlook beats analysts' estimates of $6.17 per share, according to Thomson Reuters I/B/E/S.
It raised its dividend 3 cents to 63 cents per share.
Marketing spending, which increased 35 percent in the third quarter, was driving expected annual revenue growth of 5 percent to $7.6 billion, the company said in a statement.
More than half of its marketing budget supports
The North Face
and Vans lines in the Outdoor & Action Sports segment. North Face revenue rose 17 percent in the third-quarter, while Vans' rose 19 percent.
VF's third-quarter net income rose to $242.8 million, or $2.22 per share, from $217.9 million, or $1.94 a share, a year ago. Revenue rose 7 percent to $2.23 billion.
Analysts, on average, had been expecting earnings of $2.11 a share on revenue of $2.21 billion.
VF Corp shares closed 2.6 percent lower at $85.19 on the New York Stock Exchange.
(Reporting by Helen Chernikoff in New York and Nivedita Bhattacharjee in Bangalore, editing by Dave Zimmerman, Maureen Bavdek and Carol Bishopric)
© Thomson Reuters 2023 All rights reserved.