Victoria Beckham unveils new collection for women with curves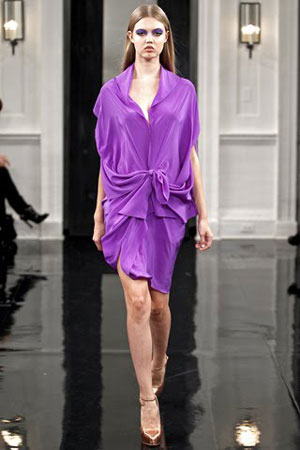 Victoria Beckham S/S 2011
NEW YORK (EUROPA PRESS)-One of the women most obsessed with her body and extreme thinness,
Victoria Beckham
, presented her new collection for 'real women' at New York's Fashion Week. Her new designs for spring/summer 2011 are aimed at women who have no physical resemblance to Victoria and can boast both flesh and curves.
This is the fifth collection that Beckham has presented on the catwalk. On Sunday at
New York Fashion Week
the former singer and wife of
David Beckham
showed the new clothes that she has designed to help women look and feel attractive.
"What I find most enticing for this season are the curves of the female figure, voluptuous sensuality and a defined silhouette that allows freedom of movement," explains Victoria.
Beckham not only boasted her clothing line. She has recently been chosen by the 'British Fashion Awards' as Best British firm of the year. Her first collection of handbags was looked on with pride on Sunday. "A Beckham can replace your Birkin" she joked.
But Victoria was not the only one who could prove her worth at New York Fashion Week.
Tom Ford
also showed his first womenswear line for six years, joined by artists such as Beyonce, Daphne Guinness and Lauren Hutton.
Other renowned designers who showed their collections for 2011 were
Alexander Wang
, for whom
Lily Cole
and
Agyness Deyn
marched down the runway, and
Michelle Obama
's designer,
Jason Wu
whose collection was inspired by floral prints.
Copyright © 2023 Europa Press. Está expresamente prohibida la redistribución y la redifusión de todo o parte de los contenidos de esta web sin su previo y expreso consentimiento.