Victoria's Secret boosts sales, but some analysts jittery
When women shop for lingerie at Victoria's Secret, they focus on the product and do not worry so much about saving money.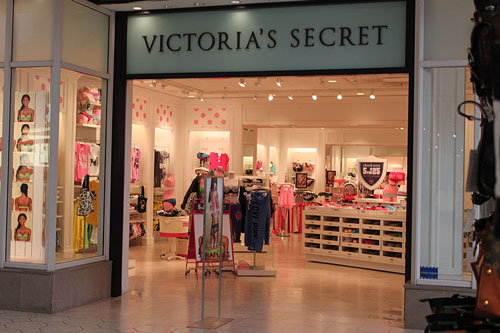 Photo: Dwight Burdette
Equity analysts say its relatively well-to-do clientele like trying out the latest in cuts and colors, although some industry watchers worry about the pace of sales growth.
On Thursday, parent company
Limited Brands
Inc, which also owns
Bath & Body Works
, La Senza and
Henri Bendel
, was one of the few retailers that posted better than expected sales at stores open at least a year in June, a month when consumers were getting more skittish.
"They have no competition in the market," said Jennifer Davis, retail sector analyst at Lazard Capital Markets. "Limited has done a great job of planning promotions better and because they don't have competition, there's no pressure."
Limited Brands, which gets about 65 percent of its sales from Victoria's Secret, has seen sales at established stores rise 6 percent or more all through the year, beating the retail sector's mean each time, according Thomson Reuters I/B/E/S.
The company has also been able to raise prices successfully. The average price for bras at the Victoria's Secret semi-annual sales was about $29.99 this year, said Davis. That compares with $19.11 to $26.99 last year.
"I only shop here at sale, but my daughters only wear this brand," said Minnie Zubair, who was buying for her 27- and 28-year old daughters at the Victoria's Secret on Chicago's Michigan Avenue. "The economy does not affect me directly. It is not a big concern and they make good products, my daughters say."
The stock is up almost 21 percent over the past year. On Thursday, Limited beat Wall Street estimates for June sales handily in a month when high unemployment and anxiety about the economy made retailers on average miss estimates for June sales.
Limited shares rose 4.5 percent to close at $46.12 on Thursday on the New York Stock Exchange and were the fourth-best performing stock in the Standard & Poor's 500 index.
Analyst Davis, who rates the stock "buy," said she expects it to go up to $55, as the company has "a lot of opportunity to grow sales and margins in the back half of this year."
Although specialty retailers Chico's FAS Inc and
American Eagle Outfitters
Inc have their own lingerie brands - Soma Intimates and Aerie - as do department stores, no one innovates as much as Limited does, analysts said.
"Their competition long ago used to be the Targets and the Penneys," said Rahul Sharma, managing director of investment management firm Neev Capital.
"(But) lingerie for department stores is a lower price point merchandise and much easier to get wrong. That's the reason a lot of companies don't innovate. That helped Limited," added Sharma, who focuses on the retail industry.
However, the investment manager said he would be more "comfortable" if same-store sales at the company rose at the more manageable range of 4 percent to 5 percent.
"At these levels, you get used to it and think it'll always comp up 6 or 7 percent and that can't happen forever," he said.
The company does not provide an absolute sales outlook, but forecast that same-store sales would rise in the low to mid single digit range at the beginning of each month. It has beaten its own sales estimates each month for at least a year.
"They give forward guidance in the first five days of the month, so they don't really know how the month is going to go," said Jaime Katz, an analyst with Morningstar.
"It's really a best guess ... management would prefer to underestimate and over deliver rather than have it the opposite way. The Street's OK with that."
Still, there are some who are more cautious.
Analyst Laura Champine of Canaccord Genuity Securities has a "hold" rating on the stock and said Limited shares appeared to be fully valued.
Champine also said the stock was pricey for a retailer that was not opening many stores.
And while the bulls are banking on Limited getting a benefit from lower cotton and other material costs in the back half of the year, Champine said lapping up already high comparable sales would make it challenging for the company to sustain its growth.
She also said cheaper cotton costs are not as big a benefit for the company.
"Cotton is a lesser percentage of overall costs for Limited. It wasn't that big of a hit and it won't be that big of a help," she added.
© Thomson Reuters 2023 All rights reserved.