Wal-Mart enters China's convenience store market
BEIJING/HONG KONG (Reuters) – Wal-Mart (WMT.N), the world's top retailer, said on Wednesday 6 May it has launched a pilot program to open convenience stores in China, seeking to boost its presence in one of the world's fastest growing retail markets.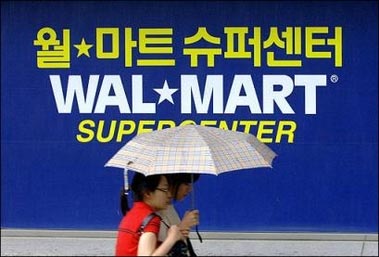 Photo : Jung Yeon-Je/AFP
Wal-Mart, better known for its mega stores and hypermarkets, opened three convenience stores in December in the south China city of Shenzhen under the program in a low-key initiative.
"The three shops, which are roughly 300 square meters each, are aimed at providing service to local communities," Vivi Mou, a company spokeswoman told Reuters.
Wal-Mart will observe market acceptance and customer preferences for the stores, named "Smart Choice" or Hui Xuan in Chinese, before deciding on future development plans, Mou said.
She would not give any details about the business performance of the three stores so far.
An unnamed company source was quoted by Chinese media saying Wal-Mart plans to open 100 of the convenience stores across China this year and 1,000 in five years. Mou declined to comment on that report.
China's $824 billion retail sector is one of the world's fastest growing. Smaller than Germany's in 2003, the market could be almost twice as big by 2013, according to Euromonitor.
Wal-Mart now operates 227 outlets and employs over 70,000 workers in China, according to its Website.
The U.S. retail giant has set up similar stores in other markets, including Britain, Japan and Mexico, Mou said.
A GOOD MOVE?
Wal-Mart will benefit from its clout as the world's biggest retailer in the new convenience store initiative, said a retail analyst at a major western brokerage, speaking on condition his name not be used.
"We will see an immediate impact in terms of competition for prime locations for store operations," he said. "It is a good move in the longer term for collecting market intelligence such as consumer behavior. It will be useful for its other retail operations."
Convenience stores have become a lucrative business segment for retailers in China, enjoying relatively high margins and lower penetration in the country.
Taiwan's President Chain (2912.TW), which operates 7-Eleven convenience stores in Taiwan under a licensing agreement, recently opened its first 7-Eleven in Shanghai.
Other foreign convenience store operators in China include Japan's
Lawson
(2651.T) and local operators Kedi and Lianhua (0980.HK).
Wal-Mart's Mou said its larger stores will remain the company's key business model in China.
Analysts say the company still has plenty of room to grow in China, as it shifts its focus from mature markets to countries like Mexico, China and Brazil.
(Editing by Doug Young and Dhara Ranasinghe)
© Thomson Reuters 2023 All rights reserved.