Wal-Mart pays the cost of doing business in Africa
May 13 - The biggest barrier to tapping into sub-Saharan Africa's blockbuster growth may be in Pretoria -- just ask Wal-Mart.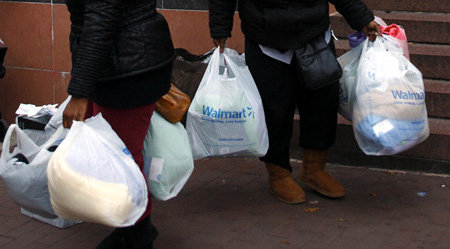 Shoppers, with bargains bought at a Wal-Mart store, on Black Friday, the most important shopping day of the year for retailers (Photo: Corbis)
Competition authorities are hearing testimony until Monday in South Africa's capital on whether to allow Wal-Mart Stores Inc to proceed with its $2.4 billion bid for control of local retailer Massmart.
South Africa's government and powerful unions fear the takeover could lead to job cuts and a flood of cheap Asian imports, and are pressing for guarantees on job cuts and local procurement.
Home to the continent's largest economy and its deepest capital markets, South Africa is seen as the top starting point for African expansion.
But the government's drawn-out deliberation over the Wal-Mart deal -- which was first announced in September -- coupled with the onerous conditions foisted on Japan's Kansai Paint in a deal earlier this year, show foreigners should expect plenty of hurdles.
"South Africa can put up these high hurdles, but every investor has a tipping point and at some point investors will say 'It's not worth it,'" said Adrian Saville, chief investment officer of Cannon Asset Managers in Johannesburg.
"It does beg a bigger question, which is: Is this inherent in the South African landscape? How easy is it to do business with South Africa?"
For Kansai Paint, Japan's largest paint firm, the answer to that question may be "pretty difficult".
The Osaka-based firm in December launched a 1.8 billion rand bid for the remaining 72.4 percent in local paint firm Freeworld Coatings that it did not already own.
Kansai won approval for the takeover last month, but it had to agree to a raft of conditions, including the sale of Freeworld's automotive paint business. It also had to promise to build a new factory and not cut jobs for three years.

SURPRISE IN JAPAN

"The constraints that were put on Kansai to get into Africa, they were nothing like what you would see elsewhere in Asia," said Jeremie Capron, a Tokyo-based analyst at brokerage CLSA who covers Kansai Paint.
"Of course you have examples of restrictions in terms of the maximum stake you can have in a company as a foreigner in some Asian countries, but the constraints that we saw in the Kansai-Freeworld deal, they surprised everybody here."
Even with the conditions, Capron said the deal is still a very good one for Kansai, and that the restrictions ultimately did not deter the company from investing in South Africa.
Massmart CEO Grant Pattison warned this week that local procurement targets could jeopardise the deal.
Currently Massmart sources about 60 percent of its products from South African manufacturers and Pattison has said the company would continue to use local suppliers.
Of course, South Africa is not the only country to make it difficult for multi-nationals to do big cross-border deals.
Governments around the world -- including in developed economies that are the biggest proponents of a laissez-faire environment -- are simply intervening more since the global credit crisis, said Matthew Kreeve, a portfolio manager at
Element
Investment Managers in Cape Town.
"While there are certain sectors that are considered more strategic, the issue is that government is generally interceding more frequently. This is just a natural reaction to politics facing up to the economic reality," he said.
"It's not that South Africa is interfering in the markets more than anyone else. Since the crisis, we've seen a ramp up in activity of governments in the regulatory space."
Canada last year blocked a $39-billion takeover bid from Australia's
BHP
Billiton for Potash Corp. This year, Australia thwarted the Singapore Exchange's $8-billion bid for local bourse ASX Ltd.
But even if South Africa continues to throw up hurdles, Element's Kreeve reckons investors will continue to jump -- given the potential returns.
"It is a cost of doing business in Africa -- the 30 percent margins and 40 percent growth numbers markets are not riskless."
By David Dolan
(Editing by Ron Askew
)
© Thomson Reuters 2022 All rights reserved.