Wal-Mart's rebound puts holiday pressure on rivals
Wal-Mart Stores Inc (WMT.N) is having a jolly holiday season, which means rival retailers might find lumps of coal in their stockings this Christmas.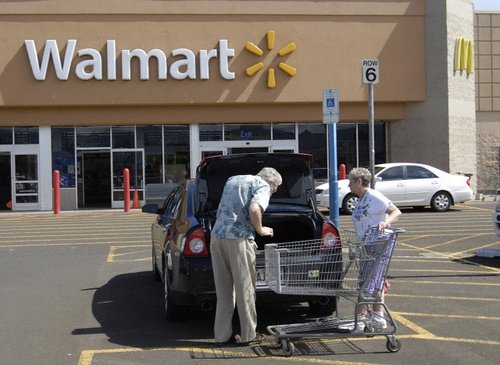 Shoppers at Walmart - Photo: Corbis
This year, the revival taking place at thousands of Walmart U.S. stores is chipping away at the momentum its competitors gained over the past two holiday seasons, when the giant retailer lost its footing.
Target
Corp (TGT.N), in particular, is already feeling the pressure. Its toy sales were lackluster after Walmart brought back a layaway plan for budget-conscious shoppers even before the holiday season began in earnest.
Walmart has lauded the return of layaway, which for a fee, allows shoppers to pay for purchases over time as the store holds onto them. The strategy is targeted at the retailer's core customers, who make between $30,000 and $60,000 a year and remain under economic pressure.
"Quite frankly, I think we brought Christmas to some families that may not have been able to have that without the layaway program," Walmart Chief Merchandising Officer Duncan Mac Naughton said at a Credit Suisse conference on Thursday.
Walmart started to skid more than two years ago, when the chain cleaned up its messy aisles and stopped selling thousands of items such as some fishing and sewing gear.
The move backfired as shoppers flocked elsewhere. The Bentonville, Arkansas, company committed to reversing its slump this year, bringing back goods and overhauling how it tracks whether items are in stock. It finally ended its nine-quarter streak of declines in sales at stores open at least a year, or same-store sales, in the third quarter.
"It has gone back to basics, sharpened its prices and overall (it is) a much improved business," said Gilford Securities analyst Bernard Sosnick.
He said the management team, starting with Chief Executive Mike Duke, pushed Walmart "back to its heritage."
With that renewed momentum, Walmart is using a variety of tactics - most notably bringing back holiday layaway after a five-year hiatus and offering low prices on must-have items from food to clothing - to keep shoppers happy.
"They are truly listening to their customer base now, they are changing," said K.C. Blonski, senior director of hospitality and retail markets at AchieveGlobal, which consults with retailers. "They are a force to still be reckoned with."
In the first two hours of its Black Friday sale, which kicked off at 10 p.m. on Thanksgiving night, Walmart processed over 700 transactions per second and rang up more than 4,000 items per second at its registers around the country, Mac Naughton said.
While Walmart has not disclosed full sales data, it appeared to do brisk business during the all-important weekend just after Thanksgiving. It sold more than 1.5 million televisions and more than 250,000 bicycles on Black Friday, he said.
Other big retailers are having a tough time keeping up.
Target's November same-store sales rose just 1.8 percent, near the low end of its expectations and a full percentage point below Wall Street's forecast. Such sales rose 5.5 percent a year earlier.
"That's quite a solid showing, but not a blowout," said Faye Landes, managing director at Consumer Edge Research.
Target is also going after budget-minded shoppers, although those with a bit more money to spend, as the median household income of so-called Target "guests" is about $64,000.
Target's REDcard credit cards woo shoppers who use it frequently to get a 5 percent discount. A new perk added in early November in time for the holiday rush gives cardholders free shipping for all online purchases.
"Price is certainly important, now more than ever," Will Setliff, Target's senior vice president of marketing, said last week as he sat in a chair adorned with Target's bull's-eye logo at the company's Minneapolis headquarters.
Growth in using the card is more pronounced among higher income consumers, said Landes.
The 5 percent discount is highlighted often in Target's advertising, including in its festive holiday campaign. A sign showcasing the offer could also be seen during Wednesday night's episode of the popular sitcom "Modern Family," when two characters bought several Christmas gifts at a Target store.
TRYING TO WIN

Every retailer is furiously trying to increase its share of holiday shopping dollars during a winter that is expected to show relatively modest growth. The National Retail Federation forecast a 2.8 percent rise in holiday sales, below last year's 5.2 percent gain.
Walmart, Target, Best Buy Co Inc (BBY.N), Toys R Us and others have stepped up their marketing this season. So have chains such as Dollar General Corp (DG.N), which continue to win over low-income shoppers.
"If you see a pickup in the economy I think it's going to be amongst the discount retailers first," said Eric Anderson, professor of marketing at Kellogg School of Management at Northwestern University. "You're going to see people coming back and spending more there just because there are better values in that space."
Still, he is skeptical Walmart, by far the world's largest retailer, will be a standout winner this season.
"I don't think they've broken away from their competitors, I think they're sort of in the same mix," he said of Walmart.
That in itself is a victory for Walmart, where same-store sales in the last two November-to-January fourth-quarter periods fell 1.8 percent and 2 percent.
LOW INCOME UNDER PRESSURE

Lower-income shoppers remain under the most pressure.
"Walmart reintroducing layaway I think is a good example of how they've acknowledged that there is a population of shoppers out there that needs help getting through the holiday period," said Nick Jones, executive vice president and head of the retail practice at Leo Burnett's Arc Worldwide.
Retailers say many shoppers are trying to spend less and appear to be focused on basics.
Five years ago, some shoppers would make over an entire room in time for a holiday visit from family or friends. Now, a new embellished toss pillow or a set of sheets will suffice, said Stacia Andersen, Target's senior vice president of merchandising for home and seasonal goods.
Walmart's Mac Naughton said his chain sold 1.8 million towels on Black Friday, while Target's Andersen said she saw shoppers in Minneapolis scoop up sheets and bed pillows.
Still, those with less to spend were spending a lot in the early part of the holiday season.
Families making less than $40,000 a year spent about $240 per household during Walmart's midnight rush on Black Friday, just below the $260 per household spent by those with incomes above $125,000, the company said.
It remains to be seen how that spending translates into sales for the full season. This coming Saturday, December 10, should be a good barometer of momentum, as people have recovered from the Thanksgiving weekend and will come back to stores, Kellogg's Anderson said.
Target is banking on that strategy, promoting a 3-day "Almost Last Minute" sale, which runs December 8 through December 10, featuring some items in limited quantities, such as a $199
Samsung
22-inch television with a $20 Target gift card. Typically, the television itself sells for $249.99.
Toys R Us,
Sears
and others are also touting big sales this weekend as they try to reignite spending before Christmas, although analysts expect shoppers may largely wait it out.
An extra Saturday before Christmas compared with 2010 and a day off for many on Monday, December 26, may lead people to shop later than usual.
"This is definitely an ain't over 'til it's over kind of year," Landes added.
By Jessica Wohl
© Thomson Reuters 2023 All rights reserved.