Walmart eyeing Europe with new London team
May 22 - Retailer Wal-Mart Stores is setting up a team in London to drive expansion into Europe, The Independent on Sunday newspaper reported.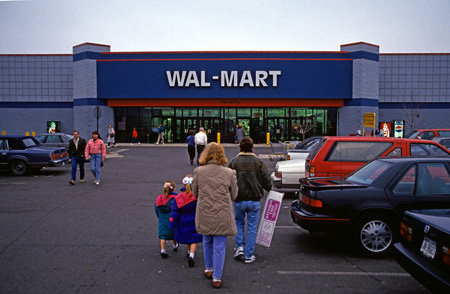 Family of shoppers walking through parking lot towards a Wal-Mart store entrance in thr United States (Photo: Corbis)
The world's largest retailer will bring a team to London to look at opportunities for European mergers and takeovers, and has hired
Cushman & Wakefield
to search for office space for 35-55 people, the newspaper said.
Wal-Mart said in first-quarter results published on Tuesday that key U.S. sales fell 1.1 percent. At
Asda
, its British arm, sales growth slowed.
A Wal-Mart spokeswoman told Reuters the report was "speculation dressed up as fact." (Reporting by Lorraine Turner; Editing by Dan Lalor
© Thomson Reuters 2022 All rights reserved.