Walmart moves Black Friday to Thanksgiving night
Walmart Stores Inc plans to beat other U.S. retailers to the punch by starting "Black Friday" on Thanksgiving night rather than wait until the wee hours of Friday for the traditional start of the high stakes holiday shopping season.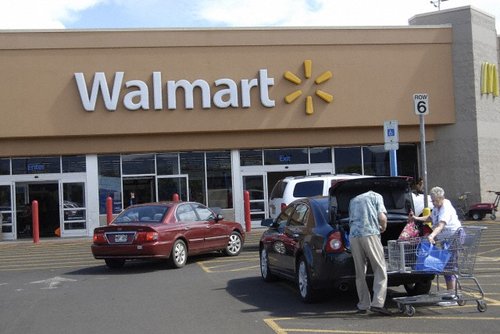 Walmart / Photo: Corbis
Announcing its offers on November 10, as opposed to November 22 as it did last year, also prevents leaks about its deals from being revealed on the Web by someone else.
While the holiday shopping season traditionally kicks off on the day after Thanksgiving, known as Black Friday, the push to sell Christmas presents and other items has been moving earlier and earlier in recent years.
Walmart held a special sale last Saturday to get a jump-start on the holiday season, while stores such as Staples Inc and Websites such as
Amazon
.com Inc and Toysrus.com have been offering specials this month.
Target
Corp said it does not plan to unveil its Black Friday deals until the day before Thanksgiving, when shoppers can see its advertisement online, but it has already had holiday-themed offers.
Walmart, the world's largest retailer, said deals on toys, home items and clothing will begin at 10 p.m. on Thanksgiving, followed by electronics deals at midnight and other offers at 8 a.m. on Friday, November 25.
After disappointing results, Walmart has vowed to match or beat competitors' prices as it tries to once again be seen as the destination for low prices.
While many of its stores have been open on Thanksgiving before, in the past Walmart waited until Friday to push specific bargains.
"Our customers told us they would rather stay up late to shop than get up early," Duncan Mac Naughton, chief merchandising officer of Walmart U.S., said in a statement.
Last year, the National Retail Foundation found the number of people who began their "Black Friday" shopping at midnight had tripled to 9.5 percent of shoppers.
Target,
Macy's
Inc and others plan to open stores at midnight after Thanksgiving this year.
While there are some big discounts on limited items at Walmart, some offers do not appear to be that enticing.
For example, at 10 p.m. on Thanksgiving, a Microsoft Corp Xbox360 4GB with Kinect and a $50 Walmart gift card will sell for $199.96. The console -- without a gift card -- was priced at $299 on Walmart's website on Wednesday. An 8 GB
Apple
Inc iPod Touch will sell for $195 at midnight on November 25. But the same item was priced at $189 on Walmart.com on Wednesday after the chain lowered its online price to keep up with competitors.
Walmart opened many of its U.S. stores on Thanksgiving Day in 2010 and kept them open overnight, a tactic it adopted after an employee was trampled to death on Black Friday in 2008.
This year, most Walmart stores will be open on Thanksgiving, unless they are required to close by local and state law.
(Reporting by Jessica Wohl in Chicago; editing by
Andre
Grenon)
© Thomson Reuters 2023 All rights reserved.