Warnaco profit tops view, shares up
* Q4 EPS ex-items $0.29, tops Street by $0.11
* Q4 net sales down 4 percent to $445.9 mln
* Sees 2009 EPS $2.40-$2.66, Street view $2.43
* Shares up nearly 6 percent (Recasts with outlook, sales details, dateline NEW YORK)
By Aarthi Sivaraman
NEW YORK, Feb 26 (Reuters) - Apparel maker Warnaco Group Inc (WRC.N), posted better-than-expected quarterly results on Thursday March 12, helped by cost cuts, and forecast a full-year profit that could top expectations, lifting its shares nearly 6 percent.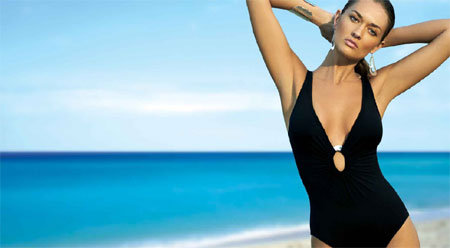 Warnaco Anna Cole
The company, which makes
Calvin Klein
jeans and
Speedo
swimsuits, took steps in November to shave expenses, such as cutting about 45 corporate jobs and reducing capital spending to counter the downturn in the economy.
Warnaco has taken further action to reduce costs by $70 million as it works "to achieve profit levels in 2009 comparable to 2008," its President and Chief Executive Joe Gromek said in a statement on Thursday.
Warnaco posted a net loss of $16.3 million or 36 cents per share for the fourth quarter, compared with a net profit of $22.9 million or 49 cents per share, a year earlier.
Excluding items such as restructuring and pension costs, its profit of 29 cents a share beat the average expectation of 18 cents a share, according to Reuters Estimates.
Net revenue at the New York-based company fell 4 percent to $445.9 million.
For the current fiscal year, Warnaco forecast earnings from continuing operations of $2.40 a share to $2.66 a share. Analysts have expected $2.43 before items, according to Reuters Estimates.
The company also expects net revenue to decline 2 percent to 5 percent on a constant currency basis. The impact of the stronger dollar would hurt its anticipated net revenue by 7 to 9 percent, Warnaco said.
Warnaco supplies merchandise to department stores, but it and other vendors have witnessed those store chains suffer through months of weak sales as recession-hit shoppers cut back on spending.
Besides being a major vendor to department stores, the New York-based company also operates Calvin Klein retail shops, mostly outside the United States.
Warnaco said its international and direct selling business should generate growth in 2009, but it would be weighed down by weakness in its wholesale unit.
In the current quarter up to last week, same-store sales were consistent with those of the fourth quarter, an executive said on a conference call with analysts.
Warnaco shares were up $1.18 to $21.20, less than half their year-high of $53.89 set in August on the New York Stock Exchange. (Additional reporting by Dhanya Skariachan in Bangalore, editing by Gerald E. McCormick)
© Thomson Reuters 2023 All rights reserved.