White House to ask that Obama billboard come down
NEW YORK (Reuters) - The White House will ask a coat-maker to take down a billboard advertisement in New York's Times Square showing President Barack Obama wearing one of the company's coats that was put up without Obama's permission, an administration official said on Thursday 7 January.
The advertisement for Weatherproof Garment Co showing Obama wearing a black overcoat during a visit to the Great Wall of China went up in Times Square on Wednesday 6 January.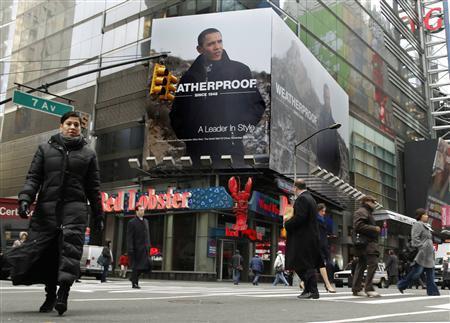 An Obama administration official said the White House would contact the company and ask it to take the ad down.
"This ad is clearly misleading because the company suggests the approval or endorsement of the president or the White House that it does not have," the official said.
A spokesman for Weatherproof was not immediately available for comment.
Company President Freddie Stollmack told The New York Times he would consult with attorneys over what to do in the event he received such a White House request.
"We're not saying President Obama endorses Weatherproof apparel," Stollmack was quoted as saying in the Times. "We're not looking to alienate the White House," he said.
The advertisement could infringe on Obama's rights to protect his image but as a practical political matter the White House is unlikely to sue the way another public figure such as an entertainer might. Without a court order, the White House request to take down the ad would not be binding.
"The White House has a long-standing policy disapproving of the use of the president's name and likeness for commercial purposes," White House deputy spokesman Bill Burton said.
On Wednesday 6 January, the White House said it contacted animal rights group PETA which it said used an image of Michelle Obama without her consent on a poster that praises the first lady for not wearing fur.
(Reporting by Daniel Trotta in New York and Ross Colvin in Washington; Editing by Ellen Wulfhorst and Vicki Allen)
© Thomson Reuters 2023 All rights reserved.